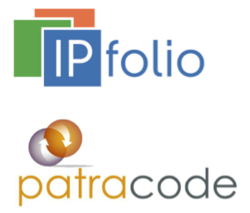 Innovation and patent filings have been exploding in the BRICS countries over the past years, leading to a growing demand for tools to effectively manage growing IP portfolios.
Berkaey, CA / Bangalore, India (PRWEB) January 14, 2013
IPfolio, the provider of intellectual property (IP) management software built on the Force.com platform, has entered a strategic partnership with Patracode Pvt. Ltd., a leading provider of IP services and tools based in Bangalore, India. Under the agreement, Patracode becomes the exclusive reseller for IPfolio in India as of January 1st, 2013.
The two companies will jointly attend and exhibit at the 5th Annual IPR Conference at the Lalit Ashok Hotel in Bangalore from January 23rd to 30th. Branded Global IP Convention since 2011, the conference has established itself as India's premier get-together of IP professionals from around the world.
IPfolio will be showing its software of the same name, and CEO Rupert Mayer will be speaking on the panel about IP as a Business Tool on January 25th. IPfolio will further use the opportunity to participate in two in-depth workshops about IP tools organized by Patracode in Bangalore on January 25th and in Pune on January 28th.
IPfolio founder and CEO Rupert Mayer emphasizes his company's focus on global expansion: "IPfolio has made its mark in North America and Europe in the first months after our launch. We are now actively developing partnerships to build our presence in further markets, especially in Asia."
"We are seeing strong demand in India for IP management tools, and patent management software in particular, within and beyond our existing customer base. We are excited to add IPfolio to the collection of IP tools that we offer to our clients," confirms Kavita Poddar, co-founder and director of Patracode.
Built on the secure platform of enterprise cloud computing pioneer Salesforce.com, IPfolio is a collaborative, flexible and easy to use tool for IP portfolio management through each lifecycle stage.
IPfolio customers around the globe range from mid- and late-stage startups with just a few patents to mid-sized private companies with a few hundred patents and trademarks, to large public companies with several thousand IP assets.
About IPfolio
IPfolio Corporation was founded in 2012 as an independent spinoff of the European leader in Enterprise IP Management, Unycom. Its mission is to make life easier for corporate IP managers and small in-house IP teams. Cloud-based, affordable, and easy to get started, IPfolio reduces administrative overhead, allows better visibility into the IP portfolio, and enables IP management at a strategic level by tying inventions to products, markets, and revenue streams. The company is privately held and has its headquarters in Berkeley, California.
About Patracode
Patracode, founded in 2010, is a team of quick learners who are actively involved in catering to the needs of Intellectual Property (IP) practitioners. They have earned significant experience in handling the sophisticated requirements of the IP community by successful representation of a range of reputed global IP products in India. The company has headquarters in Bangalore, India, and addresses the demands of clients by its trained workforce located in various parts of the country.