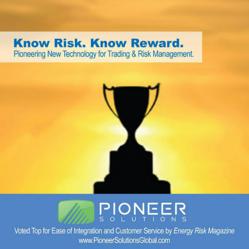 Since its inception now 10 years ago in 2002, Pioneer Solutions has grown internally 600%!
Denver, Colo. (PRWEB) January 14, 2013
Following an eventful and successful close to 2012, Pioneer Solutions would like to share a quick recap on a few of the highlights of the past year and talk about goals and expectations for 2013.
From new development releases on products to great turn outs at events, there is much to talk about for 2012. Entering into 2013, Pioneer Solutions is very busy preparing for what will hopefully be an even busier year than the one before.
Take a look back at what happened in 2012:
Product Development and Growth
This year Pioneer added several new clients to their growing customer base and hit a growth spurt that led to the addition of several key personnel to the Pioneer team. Since its inception now 10 years ago in 2002, Pioneer Solutions has grown internally 600%! This is an exciting milestone that hopefully marks only the beginning of what is to come.
Also at the beginning of 2012 was the release of the new OLAP Cube Reporting Feature. OnLine Analytical Processing, or OLAP, decision support software "allows the user to quickly analyze information that has been summarized into multidimensional three dimensional views and hierarchies."
This feature enables the user to perform advanced CTRM-ETRM trend analysis and risk insight. OLAP is now a standard feature for all of Pioneer's software products that complements the existing adhoc reporting platform.
Awards
For the third year in a row, Pioneer was recognized in Energy Risk's annual software survey & rankings. In 2012, the company ranked in the top five in seven categories including overall ease of use, ease of integrating with other systems and best customer service.
Read more about the survey and the results by clicking the link above for Pioneer's Trading Risk blog post or to view the full survey results click here.
Events
At Pioneer, staying involved in the industry is a priority and attending events is one way this can be accomplished. This past year, Pioneer was present at events such as Energy Risk USA 2012 Houston and the 88th Annual IECA Conference.
Content
Business and sales aside, Pioneer also strives to create content on the Trading Risk blog and via other means that will educate and inform others on not only what is happening at Pioneer, but also what is developing in the industry. From defining difficult practices to advice on how to go about making ETRM decisions, Pioneer Solutions strives to give thorough and up-to-date information that others will have interest in reading.
One of the most popular and recent content offers from 2012 is an Utilipoint Whitepaper entitled "5 Critical Success Factors in Selecting and Implementing CTRM Solutions". Click here to download it free.
What's next for 2013?
This upcoming year, Pioneer Solutions hopes to stay busy providing Trading and Risk Management software solutions to companies across the globe. Recently adding new key members to the company, Pioneer is looking forward to taking their product and business development to the next level and continuing to offer exceptional products and service to businesses looking for comprehensive front to back office CTRM-ETRM management.
Along with continuing to offer industry articles and other relevant content on the Trading Risk blog and website, Pioneer is excited to attend more great events this year starting with E-world Energy & Water 2013 in Europe February 5-7 as well as Energy Risk USA 2013 in Houston May 14-15.
This year will mark the first time Pioneer will attend as an exhibitor at E-world and the Director of Trading & Risk Solutions for EMEA, George Bradshaw, hopes to see everyone there!
Pioneer Solutions is looking forward to what comes in 2013 and is very excited to see what the year may bring. Thanks to everyone for a great 2012.
About Pioneer Solutions
Pioneer Solutions is a global software provider of next generation Energy Trading and Risk Management (ETRM) Environmental Management Information Systems (EMIS) & Enterprise Compliance Solutions. Serving some of the largest utilities and energy companies across the globe, Pioneer's comprehensive suite of products can easily model unique and challenging business requirements and automate business processes.