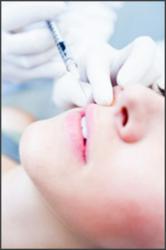 There are a variety of [cheek augmentation] techniques that address different needs and can offer short- or long-term results.
Park City, UT (PRWEB) January 11, 2013
Controversy loves celebrities, but a select few found themselves called out for "cheeky" behavior in 2012. Jada Pinkett Smith, Nicole Kidman and even Madonna were among the names repeatedly dropped as allegedly having gotten cheek implants. The fact that their plastic surgery results are considered extreme prompted FaceForum to ring in 2013 with a look at types of cheek augmentation.
"We want our readers to fully understand that there's a reasonable level of fullness, volume and sculpture cheek augmentation can offer – and an extreme one," says Shawn Miele for FaceForum. "In our experience, patients who opt for more natural or subtle results typically get greater satisfaction from plastic surgery."
FaceForum offers 'round the clock access to information, articles and a user discussion board related to facial cosmetic plastic surgery. The site also provides a free database via which users can search for board certified plastic surgeons in their area.
"The only way to know if you're a good candidate for cheek augmentation," explains Miele, "is to consult an experienced, qualified professional who's familiar with all of its nuances. There are a variety of techniques that address different needs and can offer short- or long-term results. Not knowing what you're getting into or making a hasty decision is what leads to bad outcomes with any form of cosmetic surgery."
While not a one-size-fits-all procedure, its benefits remain fairly constant: helping balance and sculpt facial features; making profiles look younger and more appealing; helping relieve lipoatrophy, a condition in which facial features appear sunken in response to tissue loss due to aging, lifestyle, etc.
The (3) most common methods of cheek augmentation include:
Cheek Implants – an outpatient procedure which takes as little as 1 hr.
Injectable Dermal Fillers – examples include Juvederm, Radiesse and Artefill
Autologous Fat Transfer – fat cells are moved from the body to the face
While cheek implants require surgical insertion, the results are long-lasting and can bring fullness to and help balance facial features. Dermal fillers augment the cheeks in ways which offer both short- or long-term results and generally impart a healthy, more youthful appearance. Fat transfer requires liposuction for cell harvesting, but is considered the most "natural" approach in cheek augmentation.
Consumers can read the full article and learn more about the many trends in cheek augmentation online at FaceForum. The site also provides information about facelifts and other facial cosmetic surgery procedures.