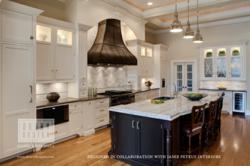 An eye-catching element within a design can set the scene for a project. Textures, materials and even the architecture of the entire space can take their cue from a strong centerpiece." Charles Moxham, Trends Magazine
Glen Ellyn, IL (PRWEB) January 18, 2013
One of Trends Magazine's Top 50 American kitchen designs for 2012-2013 is located in Chicago's western suburbs. To read more about this award-winning transitional kitchen design project, visit http://www.drurydesigns.com/blog/top-50-american-kitchen-design-details/.
One of only two Illinois projects to be selected for inclusion in "Trends Top 50 Kitchens," the project is a multi-room remodel for a Burr Ridge homeowner.
Designed by Gail Drury, CMKBD, of Drury Design in Glen Ellyn, Illinois and Janie Petkus of Petkus Interiors in Hinsdale, Illinois, the kitchen project is integral to the Burr Ridge client's multi-room remodel transformation. For more information about Drury Design Kitchen and Bath Studio, visit http://drurydesigns.com.
Originally featured in Trends Kitchen volume 2602, Charles Moxham, a Trends editor, wrote, "An eye-catching element within a design can set the scene for a project. Textures, materials and even the architecture of the entire space can take their cue from a strong centerpiece."
In 2010, the Burr Ridge project received an NKBA Chicago Midwest Design Visions large kitchens honorable mention award.
The Trends selection panel identifies the Trends Top 50 American Kitchens based on criteria of excellence in design, function, product specification and style.
Top 50 Transitional Kitchen Design Approach
Incorporated into a large room addition, the new kitchen's expansive footprint feels even more spacious thanks to soaring fourteen-foot high ceilings.
The biggest design challenge? Keeping the room cozy and warm with ample room for entertaining large family gatherings.
To visually lower the ceilings, Gail created three individual tray areas, each lined with beadboard paneling.
Commanding attention and anchoring the design, a stunning custom pewter hood is an impressive focal point.
Centered between cabinets that conceal spice racks, the hood area is accented by a cabinet bump out and overhead lighting.
An impressive thirteen-foot long island welcomes the cook[s] into a compact and extremely functional work triangle.
This kitchen is all about symmetry; a tall built-in refrigerator and freezer flank opposite ends of the range wall.
Fine furniture touches add warmth and elegance with details such as polished nickel latch type handles and decorative turnings.
Transitional Kitchen Design Project Details
Perimeter Cabinets: Grabill cabinetry, painted white
Island Cabinets: Grabill cabinetry, stained dark cherry
Perimeter Counters: Lagos Blue granite with cove ogee edge
Island Counter: Oyster Pearl granite stacked with cove ogee edge
Backsplash: Carrara marble; satin Carrara marble; in Brick and Midi Brick tiles
Ventilation: Custom hood designed by Gail Drury, CMKBD
Appliances: Dacor and Thermador
About Janie Petkus Interiors
Janie Petkus, FIIDA, is a nationally recognized interior designer who is known for her traditional style with a focus on historic preservation. Elected as one of "Ten Interior Designers to Watch" by Design Times magazine, Janie is a highly regarded Hinsdale interior designer whose media appearances include having frequently appeared on HGTV's "Decorating with Style."
Janie's work has been published nationally in numerous publications including House Beautiful, Interior Design, Midwest Living, Better Homes and Gardens, Redbook, and Traditional Home. In addition, local publications include the Chicago Tribune, Chicago Sun-Times, and Chicago Home and Garden.
About Drury Design Kitchen and Bath Studio
Drury Design's Client Focused Design™ approach integrates design recommendations, materials selection and construction management into one seamless customer experience.
Nationally recognized by the National Kitchen and Bath Association [NKBA] many times, including twice for best Showroom Design, Drury Design's client projects are often show-stoppers. Over recent years, NKBA Chicago Midwest Design Vision Awards has selected more than 30 Drury Design projects as winners in multiple categories, including Best of Show.
In 2009, Drury Design won the Sub-Zero Wolf Kitchen Design Contest's Local Midwest Award in the traditional kitchen category. Drury Design's media mentions include 50 Dream Kitchens, Better Homes and Gardens, Chicago Magazine, Chicago Tribune, Country Home, Chicago Home and Garden, Daily Herald, HGTV, Distinctive Kitchens, Kitchen and Bath Business, Kitchen and Bath Custom Planner, Kitchen and Bath Design News, Liberty Suburban's New Homes, Professional Builder, Qualified Remodeler, Shelter, Women's Day, West Suburban Living, Trends, Luxe Magazine, HGTV.com and Kitchens.com.
Located at 512 N. Main Street in Glen Ellyn, Illinois, Drury Design Kitchen and Bath Studio is one of the largest showrooms in the Midwest. To interview Gail Drury, CMKBD, about kitchen, bath and home design trends or to request permission to use an image, contact Jim Drury at 630.469.4980. View Drury Design's kitchen and bath design portfolio at http://www.drurydesigns.com/portfolio/.
About Trends Publishing
Created as a portal for the home and commercial design consumer and professional, trendsideas.com offers a searchable database of all the content from Trends publications, along with additional information. Trends Publishing is an international publisher and a leader in home design content including magazines, on-line and video; including magazines such as Trends Kitchen, Trends Bathroom, as well as Trendsideas.com and Trends TV.