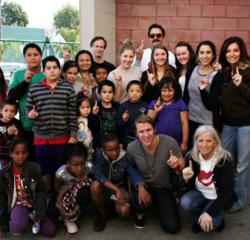 Irvine, CA (PRWEB) January 11, 2013
Aviir Inc., a biotechnology company, dedicated to the prevention of cardiovascular disease through innovative laboratory tests, sponsored a GUARDaHEART Foundation community service event in South Central on January 5th. GUARDaHEART Foundation, a non-profit committed to heart disease prevention, joined forces with Red Eye Inc, a philanthropic organization, by providing much-needed fresh produce to families in need.
Tanaka Farms, in Irvine, CA, opened up their farm up to GUARDaHEART volunteers who then harvested by hand crates of fresh fruits and vegetables which volunteers later that day delivered to the residents of South Central Los Angeles. Red Eye Inc and GUARDaHEART Foundation volunteers were greeted by a multitude of grateful smiling faces as they served up fresh produce and homemade soup, made from the freshly harvested crops to the disadvantaged families. The South Central Los Angeles residents were delighted to receive these locally grown fresh fruits and vegetables, often difficult to obtain, especially in lower income areas. One gentleman's eyes filled with tears as he accepted a large basket of carrots, commenting that he will use the vegetables to make soup, which will get him through the chilly winter.
Dr. Douglas Harrington, CEO of Aviir Diagnostics commented: "We are privileged to have this opportunity to bring food to those in need, especially since their access to fresh produce is so limited." Dr. Harrington went on to explain how this event was more than an act of charity: "We want to go one step further than donating food. We also want to empower the local residents on how to grow their own fruits and vegetables, even within a very small area. We also want to help them understand the important relationship of the foods we eat and heart disease, the nation's number one killer. It's been proven that a diet rich in fruits and vegetables can significantly lower an individuals' risk of heart disease. We hope this day brought more than nutritious food but offered these folks a new way to own their own heart health."
About GUARDaHEART
GUARDaHEART is a non-profit foundation dedicated to raising awareness of heart disease prevention by spreading the word to guard your heart and save your life. Cardiovascular disease is the leading cause of death in the United States. The good news is if individuals know their risk and take the necessary steps, most cardiovascular disease is preventable. Although heart disease is typically diagnosed in adulthood, its roots are often found in childhood. Compelling research has shown that plaque buildup in the arterial walls begins very early in life and progresses through increasing degrees of atherosclerosis. Intervention strategies and healthy lifestyle changes to reduce heart disease risk should begin in childhood when reversal of the process is easier, not later in life when the disease is more fully developed. GUARDaHEART Foundation also provides assistance for individuals who are unable to pay for cardiac risk assessments. Please visit http://www.guardaheart.org for more information.
About Red Eye Inc.
Red Eye Inc focuses on community, creativity, and serving humanity with young adults in Los Angeles and New York. It is a place where artists, musicians, actors, and many more can find authentic relationships while also using their platforms to serve others.
About Aviir
Aviir was founded in 2005 by cardiologists and scientists from the Stanford University School of Medicine to focus on discovery, development and commercialization of innovative diagnostic tests. The company specializes in developing proprietary diagnostic tests that assist in identifying patients who are most at risk of a cardiac event, but who may be unaware of their true risk status. Aviir's proprietary MIRISK and MIRISK VP assessment tests objectively identify, by a simple blood draw, individuals who are at a high risk of a cardiac event over the next five years. Aviir's CLIA-certified laboratory (Irvine, CA) complements these novel tests with a wide range of additional testing options for risk assessment and therapeutic monitoring of cardiovascular disease and related metabolic disorders – including pharmacogenomic and genetic tests. The company has adopted a unique clinical laboratory service model to provide physicians better diagnostic tools that improve the cardiovascular health of their patients. The company is privately owned and funded by leading life science venture capital firms. Please visit http://www.aviir.com for more information.
For more information on Aviir and interviews, contact Tamara York of Tamara York Public Relations, email: tamara(at)tamarayorkpr(dot)com.
# # #