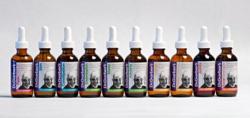 Dr. Garber's Natural Solutions are the same quality with a brand new look for the new year.
Santa Monica, CA (PRWEB) January 15, 2013
It gives us great pleasure to introduce the new look of Dr. Garber's Natural Solutions, condition specific biotherapy formulas. They are the same quality formulas that the public has come to know and trust, with an updated packaging that provides additional information and more easily understandable directions.
They are sold in Whole Foods Markets in California and Nevada, other retail markets here and abroad, through doctor's offices nationwide and through our website store, http://www.drgarbers.com.
The new labels now make it clear that our formulas are third party certified to
be in compliance with current good manufacturing practices (cGMP), are gluten free and contain no GMO's. The new labels also have instructions for use with children and the droppers are now marked for easier measurement.
Dr. Garber's Natural Solutions® are a unique line of biotherapy formulas that safely and effectively address many of the most common conditions while producing no harmful side effects. We have remedies that help conditions such as anxiety, allergy issues, bone strength, constipation, depression, female hormonal balance, joint issues, lung, skin and sleep disorders.
These great tasting and easy to use formulas are the first and only that exclusively combine the three biotherapies: gemmotherapy, lithotherapy and organotherapy. By combining the biotherapies in a special synergy critical to their effectiveness, Dr. Garber has been able to target specific conditions in a unique and previously unattainable way.
Gemmotherapy remedies are extracts of the actively growing parts of plants such as the buds, rootlets, young shoots and seeds. This is where all the potential, all the genetic information, is that goes into making the mature plant. Because of this, gemmotherapy is often referred to as "plant stem cell therapy." In fact, once a plant matures, many of the components found in the buds are no longer present. They are rich in plant growth substances that can stimulate the various tissues of the body. Gemmotherapy also helps flush toxins from the body by stimulating the normal elimination pathways.
Lithotherapy utilizes mineral containing rocks which have undergone the process of trituration (being reduced to a fine powder.) The powdered rock, with its compliment of naturally occurring minerals, is bio-energetically enhanced and made into a liquid form. When taken in to the body in this way, Lithotherapy acts to both remove toxins from the body at the cellular level and optimize mineral balance within the cells. These minerals become the catalysts for the enzyme reactions in the body that are essential for proper physiological functioning.
Organotherapy remedies are made from healthy organ, gland or tissue extracts. Using minute amounts which have been bio-energetically enhanced, the immune system is activated to restore the normal function of the respective organ, gland or tissue.
Our formulas are now labeled as dietary supplements rather than homeopathic. This decision was made so as to appeal to a much wider cross-section of the population, many of whom are still unfamiliar with homeopathy.
One consequence of this re-branding is that our formula Allergy is now called EnviroDefense.
We're sure you will be pleased with the updated look of our products. If you have any questions or comments, please do not hesitate to contact us.
Dr. Stuart H. Garber, D.C., PhD has been practicing holistic medicine since 1981. He has lectured to medical, dental, chiropractic and acupuncture groups in the United States, Europe, Asia and the Caribbean. In 1997 Dr. Garber became the first person in the United States to receive a Ph.D. degree in homeopathy. He is the developer of Dr. Garber's Natural Solutions line of condition specific biotherapy formulas that are sold in Whole Foods Stores in California, other retail outlets, through doctors offices and his website. The sleep formula is the number one seller in the product line. He practices in Santa Monica, CA where he also conducts research in homeopathic.