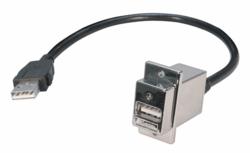 North Andover, MA (PRWEB) January 14, 2013
L-com, Inc., a designer and manufacturer of wired and wireless connectivity products, has released a new line of its popular ECF-style panel-mount USB 2.0 cables. These items, which allow easy and secure USB bulkhead mounting with an integral rear cable, have a latching USB type A connector on the cable to prevent disconnection during vibration and shock. The new items are expected to be useful in mobile, vehicle, and military USB applications where vibration and shock could cause a standard USB type A male plug to pop out of its jack.
The new products feature either a USB type A female panel-mount or a USB type B female panel-mount, and use L-com's proprietary ECF style flange to screw mount the jack to a surface. The cable behind the bulkhead jack can range from 12 inches all the way to 120 inches and is terminated with a latching type A male connector. The cable features 20 AWG power conductors to maximize power throughput and minimize the chance of the cable breaking.
"Our ECF-style couplers and our latching USB plugs are both great sellers," said Steve Smith, Product Manager. "It is definitely time to put them together to make a very useful and secure product."
The new USB 2.0 cables are currently in-stock and available for same-day shipment out of L-com's North Andover, MA, fulfillment center. Detailed 2D engineering drawings, 3D CAD models, and a tip explaining the latching USB connectors are all available for free download from L-com's website.
To download a high-res version of the image in this press release suitable for print publication, please click this link, then right click on the image and Save As:
http://www.l-com.com/lcom_emails/2013/011413/ecf504_12aal.jpg
For more information about this release, please contact:
Dave Fallon, Internet Marketing Strategist
978-682-6936 x1169, dfallon(at)l-com(dot)com
L-com, a global designer and manufacturer of wired and wireless connectivity products, offers a wide range of solutions and unmatched customer service for the audio/video, OEM, military/aerospace, IT, and wireless RF industries. The company's product portfolio includes cable assemblies, connectors, adapters, computer networking components, and custom products, as well as the HyperLink® line of wireless antennas, amplifiers, filters/splitters, lightning protectors, weatherproof enclosures, and much more. Trusted for more than 30 years, L-com, Inc. is headquartered in North Andover, Massachusetts, USA, and is ISO 9001: 2008-certified. For more information, please visit: http://www.L-com.com/