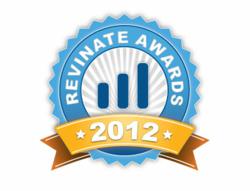 San Francisco, CA (PRWEB) January 15, 2013
Revinate, the new standard for guest satisfaction for the hospitality industry, today announced the winners of the 2012 Revinate Awards for online reputation management. Hotels across the globe were invited to submit nominations for "Hotel of the Year" by detailing their accomplishments, innovations and successes in online reputation and social media during 2012. Winners for other categories were determined by Revinate through an analysis of large sets of online review and social media data.
Michelle Wohl, VP of Marketing for Revinate, says, "With more than 15,000 client hotels across 120 countries, the competition was stiff. The strides that our client hotels made in 2012 are incredible. In addition to gains on TripAdvisor's Popularity Index and improvements in average rating and review frequency, every day we witness clients exceeding goals around guest sentiment, competition, and even RevPAR growth."
While Revinate works with properties and brands of all sizes, and in every segment of the hospitality industry, many of this year's winners are boutique, budget and mid-scale hotels. Kyle Duffy, VP of Strategic Accounts, says, "The fact that so many of the award winners represent independent, boutique and limited-service hotels is testament to how the industry and hotel priorities changed this year. Online reputation management is no longer important to just luxury or high-end properties. It is imperative to any hotel, anywhere in the world."
The 2012 Revinate Award winners:
Revinate Hotel of the Year
The London NYC, New York, NY
Since signing up for Revinate in January of 2011, The London NYC, an independent luxury hotel, has improved its overall rating versus the competitive set, improved its reviews pace versus the competitive set, improved its rank on TripAdvisor's Popularity Index from #51 to #37 and leveraged these accomplishments to become #1 in RevPAR for 2012. The London NYC is advised by Digital Marketing Works, who specialize in providing insight and solutions on how to maximize profits through digital channels. Read the complete story of The London NYC's collaboration with DMW and their success on the Revinate blog at blog.revinate.com.
Revinate Hotel of the Year Award Runners Up
Hotel Erwin, Venice, CA
Galleria Park Hotel, San Francisco, CA
Best Use of Revinate by a Management Company
Denihan Hospitality Group, New York, NY
Biggest Improvement on TripAdvisor Popularity Index
Surfcomber Miami-South Beach, A Kimpton Hotel, South Beach, FL
Biggest Increase in Review Frequency from 2011 to 2012
The Milford, New York, NY
Best Overall Rating Against the Competitive Set
Super 8 Clearfield, PA
Biggest Increase in Review Frequency Against Competitive Set from 2011 to 2012
Aria Resort & Casino, Las Vegas, NV
Read more about the winners and their specific achievements at http://blog.revinate.com.
About Revinate
With online guest-generated travel reviews increasing in both number and importance, hotel owners and operators have a simple choice: either ignore the explosion of social media and hope for the best or proactively track and manage what is being said online in a way that deepens customer relationships, strengthens brands and boosts revenue. If you opt for the latter, then Revinate's user-friendly software platform, custom-designed for the unique needs of the hospitality industry, is an irreplaceable tool. Revinate's powerful technology monitors all of the important social media venues – including Twitter, Facebook and TripAdvisor – and provides instant alerts whenever your property or brand is mentioned. With information comes power: in this case, the power to please a disgruntled customer, monitor the competition and set yourself apart when it comes to guest satisfaction and loyalty. Based in San Francisco, Revinate counts the world's leading hospitality brands as clients. To learn more, please visit http://www.revinate.com.