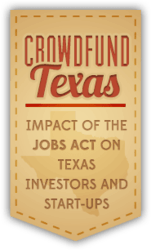 Austin, TX (PRWEB) January 11, 2013
Tuesday's Crowdfund Texas Conference, held at the Omni Hotel in downtown Austin, attracted 235 industry luminaries, state officials, and aspiring entrepreneurs to the one-day event hosted by Texas super angel investor and Laughing at Wall Street author Chris Camillo. In partnership with the Crowdfunding Professional Association (CfPA) and Startup Texas, the conference featured prominent Crowdfunding platforms, legal experts and analysts discussing the current state of the industry. Attendees provided interesting insight into how industry insiders and entrepreneurs view equity Crowdfunding in a survey sponsored by the hosts, with 97 percent saying it is "very likely" or "somewhat likely" that they would invest in a Crowdfunded company of a trusted person in their network.
There was also majority consensus on which industry would benefit most from equity Crowdfunding, with 69 percent of respondents viewing the "digital media, games, IT and creative" sectors as the best suited to equity Crowdfunding. Additionally, the majority (66 percent) believes that equity- and debt-based Crowdfunding will forge ahead despite unfounded speculation about fraud and abuse.
"One of our key objectives was simply to educate the audience about what equity Crowdfunding is and isn't," says Chris Camillo. "The survey results make it clear that once people hear the facts about issues like safeguards in place for investors and how equity Crowdfunding is already working in other parts of the world, they are very receptive to and optimistic about what this revolution in the capital markets has to offer."
Despite positive views about the future of Crowdfunding, an overwhelming majority (80 percent) believe that the media, elected officials and the general public are not well informed enough to support immediate goals for entrepreneurs and innovators.
"Coming away from this groundbreaking conference, the hope is that the Crowdfunding sector's key stakeholders will be inspired to contact their local and federal representatives to urge for swift action and no further delays in the SEC rulings," adds Camillo.
Complete survey results can be found online here. For more information on the Crowdfund Texas Conference, visit http://www.crowdfundtx.com.