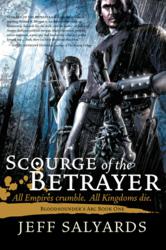 Fantasy of the Year.
San Francisco, CA (PRWEB) January 13, 2013
Since the hardcover release in May 2012, critics have been raving about Scourge of the Betrayer, casting author Jeff Salyards as the young face of dark, gritty fantasy and comparing his work to genre pillars such as Joe Abercrombie, Glen Cook and Mark Lawrence. Scourge of the Betrayer is the first book in the Bloodsounders Arc trilogy and is now available in trade paper back. Book two, The Veil of the Deserters, is scheduled for release in fall 2013.
"Scourge of the Betrayer is as harsh and profane as anything Richard K. Morgan or Joe Abercrombie serves up. Fortunately, Salyards has the skills–and the humor–to pull it off. Snappy dialogue, political intrigue, shady characters, gripping action sequences, a poor guy that has no idea what he's gotten himself into… Yeah, there's a lot to like about this debut."
—David Anthony Durham, author of The Acacia Trilogy
"In a year that saw the release of a new Abercrombie novel (and quite a good one at that), Scourge of the Betrayer still managed to earn my vote for Fantasy of the Year."
—Nick Sharps, SF Signal
"If you enjoyed Glen Cook's Black Company novels or, more recently, the works of Joe Abercrombie, you should have a good time with this solid debut, but thanks to the author's brilliant decision to use Arki as the narrator, Scourge of the Betrayer offers an interesting twist on the military fantasy pattern… If you're in the mood for a solid gritty fantasy, give Scourge of the Betrayer a try."
—Stefan Raets, Tor.com
"Scourge of the Betrayer is a literary appetizer that will undoubtedly captivate anyone who enjoys fantasy, be it epic fantasy, adventure fantasy, military fantasy, etc. If you're a fan of Cook's Black Company, or GRRM's A Song of Ice and Fire, or of classic fantasy sagas like Leiber's Fafhrd and the Gray Mouser and Moorcock's Elric, this is a debut novel that is, like Jagger said, 'what you need.'"
—Paul Goat Allen, B&N.com
Book Description
All Empires crumble. All Kingdoms die.
Many tales are told of the Syldoon Empire and its fearsome soldiers, who are known throughout the world for their treachery and atrocities. Some say that the Syldoon eat virgins and babies–or perhaps their own mothers. Arkamondos, a bookish young scribe, suspects that the Syldoon's dire reputation may have grown in the retelling, but he's about to find out for himself.
Hired to chronicle the exploits of a band of rugged Syldoon warriors, Arki finds himself both frightened and fascinated by the men's enigmatic leader, Captain Braylar Killcoin. A secretive, mercurial figure haunted by the memories of those he's killed with his deadly flail, Braylar has already disposed of at least one impertinent scribe… and Arki might be next.
Archiving the mundane doings of millers and merchants was tedious, but at least it was safe. As Arki heads off on a mysterious mission into parts unknown, in the company of the coarse, bloody-minded Syldoon, he is promised a chance to finally record an historic adventure well worth the telling, but first he must survive the experience!
A gripping military fantasy in the tradition of Glen Cook, Scourge of the Betrayer explores the brutal politics of Empire–and the searing impact of violence and dark magic on a man's soul.
About the Author:
Jeff Salyards grew up in a small town north of Chicago. While it wasn't Mayberry, it was quiet and sleepy, so he got started early imagining his way into other worlds that were loud, chaotic, and full of irrepressible characters. While he ultimately moved away, he never lost his fascination for the fantastic, though his tastes have grown a bit darker and more mature over the years. Salyards lives near Chicago with his wife and three daughters. By day, he is a book editor for the American Bar Association; by night, he will continue to crank out novels as long as there are readers willing to read them.
Learn more about Jeff Salyards jeffsalyards.com
About the Book:
Scourge of the Betrayer
Bloodsounders Arc Book One
Jeff Salyards
Trade paperback
9781597804516
Published by Night Shade Books
Jeff Salyards is available for interviews and author appearances. For all publicity inquiries contact publicity(at)nightshadebooks(dot)com