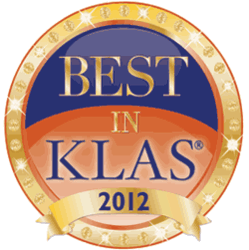 "[Dimensional Insight's] strong combination of functionality, scalability, and ease of use has helped contribute to their number-one provider performance and satisfaction ranking among enterprise BI vendors." -- Report author Joe Van De Graaff of KLAS
Burlington, MA (PRWEB) January 14, 2013
Dimensional Insight today announced that its Diver Solution business intelligence (BI) platform has received top honors in two recent analyst reports authored by KLAS. Specializing in monitoring and reporting on the performance of healthcare IT vendors, KLAS is a trusted resource for over 4,500 hospitals and over 3,000 doctor's offices and clinics to help healthcare providers make informed technology decisions.
1. The Diver Solution earns "Best in KLAS" award for Business Intelligence/Reporting:
For the 4th consecutive year, Dimensional Insight's Diver Solution has received the prestigious "Best in KLAS" designation for Business Intelligence/Reporting. The 2012 Best in KLAS Awards: Software & Services report, published December 14, 2012, recognizes top performing healthcare IT vendors who have excelled in their respective market segments. This year, nearly 20,000 healthcare provider interviews crowned new and repeat Best in KLAS winners.
"Providers recognize the critical nature that vendors play in improving healthcare delivery," says Adam Gale, KLAS president. "Thus, a growing number of providers are weighing in on vendor performance. It speaks volumes that providers want to be heard and be counted. And vendors are listening."
2. The Diver Solution awarded Top Enterprise Business Intelligence Solution:
The KLAS "Business Intelligence: Influencing Change?" report, published November 20, 2012, awarded the top ranking to Dimensional Insight's Diver Solution. This is the 3rd year that the BI Performance Rankings has been published, and for the 3rd consecutive year Dimensional Insight has taken home the top spot. The Diver Solution outscored all competitors including QlikTech, McKesson, Information Builders, IBM Cognos, and SAP BusinessObjects. The Performance rankings are based on direct user feedback from hospitals and clinics based on product scope, functionality, and business benefits derived.
"[Dimensional Insight's] strong combination of functionality, scalability, and ease of use has helped contribute to their number-one provider performance and satisfaction ranking among enterprise BI vendors," according to report author Joe Van De Graaff of KLAS. "Customers reported dash boarding capabilities as especially strong and easy to set up, and multiple customers reported significant positive outcomes."
To view Dimensional Insight highlights from both reports, visit http://www.dimins.com/KLAS2012.
"We take great pride in being recognized by KLAS year after year because it is a direct reflection of the value our healthcare customers are deriving from our software and interactions with our staff," said Fred Powers, Dimensional Insight's chief executive officer. "Dimensional Insight is committed to helping healthcare organizations get the maximum value out of their clinical, operational, and financial data."
For over two decades, Dimensional Insight has worked with hundreds of healthcare providers across the US and around the world to integrate and harness data from disparate systems into interactive reports, dashboards, performance scorecards, and analytical tools. They rely on The Diver Solution to tackle their quality, productivity, revenue cycle, clinical, and meaningful use challenges. The flexibility inherent in Dimensional Insight's Business Intelligence Platform allows hospitals to implement business intelligence initiatives faster and more cost effectively than traditional BI solutions.
About KLAS:
KLAS is a research firm on a global mission to improve healthcare delivery by enabling providers to be heard and to be counted. Working with thousands of healthcare executives and clinicians, KLAS gathers data on software, services, medical equipment, and infrastructure systems to deliver timely reports, trends, and statistical overviews. The research directly represents the provider voice and acts as a catalyst for improving vendor performance. For more information, go to http://www.KLASresearch.com.
About Dimensional Insight:
Dimensional Insight is a leading provider of business intelligence (BI) solutions. The company offers a comprehensive set of BI capabilities ranging from data integration and modeling to sophisticated reporting, analytics, information portals and dashboards. Founded in 1989, Dimensional Insight has thousands of customer organizations worldwide. Dimensional Insight's Diver Solution consistently ranks as a top performing business intelligence platform in customer satisfaction in its core market segments including healthcare, manufacturing and distribution industries. For more information, please visit http://www.dimins.com.
Dimensional Insight and The Diver Solution are trademarks or registered trademarks of Dimensional Insight or its subsidiaries in the U.S. and other countries. Other company names, product names and company logos mentioned herein are the trademarks, or registered trademarks of their respective owners.