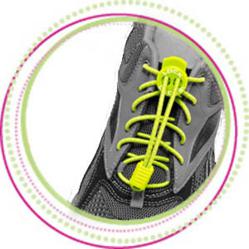 Philadelphia, PA (PRWEB) January 15, 2013
In a culture where people want to look and feel good, consumers seek out performance accessories to maximize workouts and keep up with new sportswear styles. LOCK LACES, a 15 year old USA based athletic brand, is capitalizing on this trend by unveiling a new website aimed to broaden reach to fitness enthusiast audiences.
LOCK LACES are a patented elastic shoelace and fastening system. Since 1997, runners and triathletes worldwide have worn Lock Laces. Many elite athletes have made LOCK LACES an essential performance accessory when safety and speed are a main concern.
"Lock Laces are also ideal for casual running, team sports, walking, or everyday use. LOCK LACES allow the perfect shoe fit, with the guarantee that laces won't ever come undone," says Eric Jackson, Inventor of LOCK LACES. "One thing we have done to meet consumer demand is add a variety of fashionable colors including Hot Pink and Sour Green Apple. We also have colors to match any child's sports uniform on the market," says Jackson.
The evolution of the LOCK LACES Brand is being directed by Louisa Eyler, president of Positive Distribution LLC. In a multi-year exclusive licensing and distribution agreement, Louisa Eyler says, "Tying shoelaces is a thing of the past and we have big plans for Lock Laces." The company is focused on strategic partnerships and social commerce. "Social media marketing is critical with a niche product like Lock Laces. With over a million pair of Lock Laces sold by word-of-mouth advertising it is critical to interact with customers and loyal fans using the internet. We believe that this commitment will grow the Lock Laces brand exponentially and we are investing heavily," says Eyler.
LOCK LACES is the leading brand in performance lacing with its highest market share in the USA running industry. LOCK LACES are available on-line and in-store worldwide.
To learn more visit http://www.locklaces.com or http://www.facebook.com/locklaces.
For media inquires, contact media(at)locklaces(dot)com.