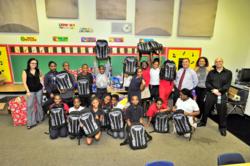 Miami, FL (PRWEB) January 13, 2013
The Continental Group (TCG), a FirstService Residential Management company, joined forces with the "I Have a Dream" Foundation to help underprivileged children from Hibiscus Elementary School, a Title I school in the City of Miami Gardens.
TCG employees donated $1,500 to fund the purchase of 100 backpacks. These were filled with school supplies and a toy, board game or sporting equipment donated by residents of Continental-managed properties throughout Dade and Broward County.
The goal is for each school child to be greeted with a full backpack upon his or her return to Hibiscus Elementary School at the end of the winter break on January 9th, 2013. Donated sporting equipment and board games will be used in afterschool activity programs.
This charitable effort is part of Continental Cares, TCG's year-round corporate philanthropic outreach program dedicated to enhancing the lives of the neighbors, residents, and communities it serves across Florida. The primary focus of Continental Cares is to reach out to nonprofit organizations and entities that meet the Continental Cares mission.
"We're happy to partner up with the 'I Have a Dream Foundation' for this 'Holiday after the Holidays' drive," said Andrea Escue, TCG's Regional Director of Client Relations. "It's nice for TCG and its employees to continually give back to the community it represents."
About I Have A Dream Foundation
The "I Have A Dream" Foundation is working to ensure that all children have the opportunity to pursue higher education. They empower children in low-income communities to achieve higher education by providing them with guaranteed tuition support and equipping them with the skills, knowledge, and habits they need to gain entry to higher education and succeed in college and beyond. By helping their Dreamers gain access to college, they are putting them on a different academic and life trajectory, while having a broader impact on the students' families and the generations that follow. http://www.ihaveadreamfoundation.org.
About The Continental Group, Inc.
Founded in 1990, The Continental Group's corporate headquarters is located in Hollywood, FL. It also has regional offices in Boca Raton, Miami, West Palm Beach, Wellington, Vero Beach, Orlando, Tampa/St. Petersburg, Jacksonville and Destin. The company is the largest manager of condominium and homeowner associations in the state, and one of South Florida's leading private sector employers.
Today, The Continental Group manages and maintains 1,500 Associations and more than 310,000 residential units. As the leading community association management company in Florida, Continental pioneered many of the practices widely utilized throughout the industry today.
The Continental Group is a subsidiary of FirstService Residential Management (FSR). FSR is the largest manager of residential communities in North America, overseeing more than 5,600 properties and over 1.3 million residential units.
To learn more about The Continental Group, call (954) 925-8200, toll-free: (800) 215-2316 or visit http://www.tcgmgt.com.