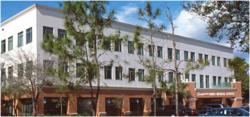 Fort Lauderdale, FL (PRWEB) January 14, 2013
Located in Hollywood, Florida, the plaza offers B class suburban office space strategically located near Memorial Hospital Pembroke and and University Drive.
The Sheridan Street Professional Plaza is comprised of two three-story buildings with modern facilities. The plaza offers B class offices with over 120,000 square feet of space sitting on over seven acres of land just half a mile from the well-known Memorial Hospital Pembroke. It also represents the only available office complex between University Drive and Florida's Turnpike, allowing new businesses to set themselves up in a prime location.
According to a company representative, this office space for rent is ideal for medical businesses interested in opening a new location for the new year, or moving to a better location that's visible with a great deal of parking for customers. The company also emphasizes excellent leasing opportunities available for start-up businesses in need of Miami office space. Medical businesses of all types can benefit from close proximity to the fully accredited hospital, which has nearly 7,000 admissions each year.
Locating ideal office space in Miami can be difficult, as the population continues to grow and businesses face steep competition for prime office space. The Sheridan Street Professional Plaza represents a real opportunity for new businesses in 2013, although spaces do run out quickly. Currently, Sheridan Professional offers a number of leased office spaces in the plaza which come with modern facilities and a range of amenities, including nearby shopping, a prominent location and abundant parking, which can be a rarity in the city.
Business owners interested in opening a new location for 2013 or acquiring quality office space for a start-up medical business can learn more about the property and lease options by contacting Sheridan Professional at 954-449-4900 or visiting http://www.sheridanprofessional.com.
About Sheridan Street Professional Plaza
Sheridan Street Professional Plaza is a quality Class B office property with two three-story buildings with a total of 120,000 square feet of office space for rent. The plaza sits on seven acres of land nearby the Memorial Hospital Pembroke and University Drive.
Sheridan Street Professional Plaza
954-449-4900
http://www.sheridanprofessional.com
7261-7369 Sheridan Street