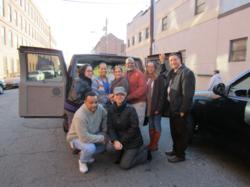 Paterson, New Jersey (PRWEB) January 14, 2013
On January 18th Eva's Village, New Jersey's most comprehensive anti-poverty organization, will welcome a volunteer team from Spencer Savings Bank, to serve the noon meal in its kitchen program. Spencer Savings Bank is a full service, mutually owned and operated, community bank. After Hurricane Sandy, businesses large and small rallied to help those affected by the loss of heat, light, water and food supplies. Spencer Savings Bank, a longtime supporter, reached out to Eva's Village offering assistance. "As a community bank, we are committed to helping our neighbors, especially during extreme times of need," stated Janel Bazih, Assistant Vice President and Marketing Manager. The bank also held a coat drive which benefited Eva's Village.
The "Fund-A-Meal" program provides the opportunity for corporate teams to sponsor a meal in Eva's Kitchen and to serve the meal on the day of their sponsorship. "Spencer Savings Bank has been a dedicated supporter of Eva's Village," commented Donna Marie Fico, Director of Marketing & Education. "Although we did not suffer any major structural damage during Hurricane Sandy, Eva's did endure other losses. We lost power for 5 days, so we lost all our food supply which is substantial since in addition to serving a hot lunch each day to over 350 we feed all our clients living with us which is close to 300 people."
Eva's Village strives to feed a hot lunch to all that come to their door each day (365 days/year), serving more than 140,000 lunches/year. The soup kitchen program at Eva's Village, has experienced an increase of 24% increase since 2007.
About Eva's Village
Founded by Msgr. Vincent E. Puma in 1982 as a response to the poor and homeless in Paterson, NJ, Eva's Village is a non-profit comprehensive social service organization with a mission to feed the hungry, shelter the homeless, treat the addicted and provide free medical and dental care to the poor. Through almost three decades of service, Eva's Village has established a unique record in facing community challenges and changing the lives of the hungry, homeless and addicted. It has grown from a simple soup kitchen to become the most respected anti-poverty program in New Jersey. Eva's Village now includes fourteen integrated programs housed in numerous buildings spanning several city blocks in Downtown Paterson.
About Spencer Savings Bank
Spencer Savings Bank, headquartered in Elmwood Park, New Jersey, is a community bank that has been serving its local communities with integrity and pride for over 70 years. The Bank, serving consumers and businesses, operates 19 branches throughout Northern New Jersey. Spencer Savings Bank has over $1.8 billion in total assets.
For more information on the "Fund-A- Meal" Program, contact: Cyndi Roberson, Government & Community Relations Specialist– Phone: (973) 523-6220 Ext. 226 or email Cyndi.Roberson(at)evasvillage(dot)org.