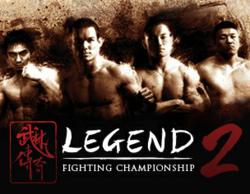 Legend fights have very broad appeal...The action, drama and skills displayed, along with the individual fighter stories and the cultures they represent, can get really addictive to watch

- Suk Park, co-founder of DramaFever
NEW YORK (PRWEB) January 17, 2013
For the first time, millions of sports fans in the USA, Canada and Latin America will be able to watch some of the world's most elite mixed martial arts (MMA) fighters compete, for free and on demand. New York-based DramaFever and Hong Kong-based Legend Fighting Championship have teamed up to make events from the largest and most popular international MMA competition in the Asia-Pacific region available online, exclusively through DramaFever. All events will be easy and convenient to find on both DramaFever.com and a dedicated Legend-Hulu channel, which DramaFever has created as part of a recent content deal.
With this deal, online viewers and MMA fans gain some variety, plus a world-class, affordable, alternative to relatively limited MMA entertainment choices that exist now. Now fans can catch up with past, televised fights, previously only available on Pay-Per-View in North America. All events will be streamed in their entirety on both platforms, with high-definition available. Each event runs approximately two hours in length (110 minutes), featuring champions from South Korea, Japan, Mongolia, China, and 10 more Asia-Pacific countries. In 2013, Legend plans to hold six events, which will also be distributed by DramaFever after the standard Pay-Per-View run.
"More Enter the Dragon than Mortal Kombat-style bloody slugfests, the Legend fights have very broad appeal across the sports entertainment spectrum," said Suk Park, co-founder of DramaFever. "The action, drama and skills displayed, along with the individual fighter stories and the cultures they represent, can get really addictive to watch."
"People will discover masters in non-traditional MMA fighting styles such as Sanda ("freestyle kung fu"), Wushu and Shuaijiao, as well as, the styles you see all the time in MMA, such as Muay Thai, Brazilian Jiu-jitsu, boxing, and wrestling," Legend co-founder, Chris Pollak added, underscoring his friend's analogy.
Backed by AMC Networks, Bertelsmann, co-founders of YouTube and Machinima, MK Capital, and NALA Investments (the investment vehicle for the family that created Univision and Televisa), DramaFever specializes in delivering primetime television from around the world, on demand. The digital entertainment platform has been curating and delivering shows from its large collection of over 425 licensed, professionally translated series from Asia to partner Hulu since 2010. Co-founder Suk Park went to Columbia Business School with friends and Legend co-founders Michael Haskamp and Chris Pollak. Legend is currently broadcast in 44 countries via 27 broadcast partners, including a broadcast reach of over 600 million in Mainland China alone.
Over 17 hours of Legend fight entertainment is now online. On DramaFever.com, each event appears as its own series, giving viewers the option to watch the whole event, individual bouts, or highlight clips. Viewers will also find information about the events and fighters in both English and Spanish via a bilingual player. Future features are being added to enable deeper fan engagement, such as adding photos and comments to videos or athlete pages.
Link to DramaFever-Legend: http://www.dramafever.com/collections/legend-fc
Registered viewers can watch free, unlimited, ad-supported video, while benefiting from helpful features on DramaFever, as well as on mobile and Web TV apps. Premium subscribers can watch without interruptions and in high-definition. Premium subscriptions are $9.99 per month or less.
ABOUT DRAMAFEVER
Established in 2009, New York-based DramaFever, an online video platform for the world's best entertainment available on the web, serves mainstream U.S., Canadian and Latin America audiences. DramaFever's ever-expanding library represents one of the most comprehensive and current U.S. collections of licensed Asian and Spanish-language primetime TV available online. All shows are professionally translated and available for free in high quality. Partners include Hulu and Netflix and over 63 of the world's top content producers. Curated selections also appear on iTunes. As of January 2013, DramaFever serves over 3.1 million viewers via a new bilingual player on DramaFever.com, as well as mobile and web TV apps. To learn more, visit http://www.DramaFever.com.
ABOUT LEGEND FIGHTING CHAMPIONSHIP
Legend Fighting Championship (Legend) is the Asia-Pacific Championship of Mixed Martial Arts (MMA). Based in Hong Kong, Legend invites professional martial artists from throughout China and the Asia-Pacific region to compete in a freestyle tournament using interdisciplinary martial arts skills including Sanda, Wushu, Jiu-jitsu, Muay Thai, boxing, and wrestling in supervised matches under a strict set of rules designed to promote athlete safety. Events are produced for live international television, in both English and Mandarin Chinese, and each program incorporates and celebrates the region's unique history, cultures, and thousands of years of martial arts traditions. Legend is committed to promoting the sport of mixed martial arts in the Asia-Pacific, to supporting and cultivating its athletes, and to providing exceptional entertainment to a broad audience. Legend is backed by CA Media, the Asia-Pacific investment vehicle of the Chernin Group, and Diamond Ridge Ventures. See http://www.legendfc.com for more.