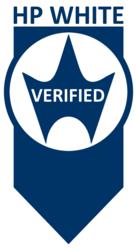 "The HP White marking program provides armor companies with accurate and independently verified performance data to help departments make better informed purchasing decisions."
Baltimore, MD (PRWEB) January 14, 2013
HP White Laboratory, Inc., an Intertek company and the world's largest independent test laboratory of armor and ballistics, announces the launch of its proprietary Body Armor Performance Verification Program, designed to distinguish best-performing body armor products among National Institute of Justice (NIJ) Certified products. Products that are independently tested by HP White and meet the Program's performance limits will be eligible to bear the HP White Verified Mark and Label.
"Picking up where NIJ certified leaves off, HP White's Verified Program gives manufacturers the ability to show purchasing officials, through independent verification, why a product is $200 safer, lighter, thinner – not just $200 more expensive ," said Mike Parker, president, HP White. "As an Intertek company, HP White's new Verified Program joins the ranks of some of the world's most notable certification marks – ETL Mark, WH Mark, S (SEMKO) Mark – found on billions of products bought and sold each year."
Minimum Program Qualification
To qualify for HP White's Performance Verification Program, products must 1) be NIJ certified, and 2) meet the Program's performance limits in the following categories (when tested in accordance with the named methods):

Areal Density (HPW-AD-01-11)
Thickness (ASTMF 1777, Modified)
Blunt-Force Trauma (NIJ-STD-0101.06)
Ballistic Limit, V50 (NIJ-STD-0101.06)
Verified products are granted usage of the HP White Verified Mark, Informational Label (model-specific), Hang Tags, and will be listed in the HP White Verified Products Directory. Individual listings in the online Verified Products Directory will be directly accessible via smart phone from the QR code embedded in each model's Informational Label.
Program Performance Limits
In order to distinguish the best armor products, the Program's performance limits are set to the top third of the market – derived from published data, market surveys, and first hand experience testing thousand of armor models each year. As armor performance continually improves, the HP White Program will evaluate performance trends, and update the Program's performance limits annually to reflect only the best performing products on market.
Extended Performance Verification
Armor products that meet the minimum performance limits may extend the Program's performance verification to include Contact Shots, FBI and DEA compliance, Antimicrobial and Washability for carriers, and more.
"With nearly 500 NIJ-compliant models on the market, it can be difficult for contracting personnel to identify which models provide the best mix of features for front line officers," said John Cronin, manager of Global Business Development, HP White. "The HP White marking program provides armor companies with accurate and independently verified performance data to help departments make better informed purchasing decisions."
About H.P. White Laboratory, Inc
H.P. White Laboratory, Inc. is an independent ballistics and ballistics resistance laboratory. For 75 years, H.P. White has specialized in research and development, validation testing, certification and quality control evaluations of body and vehicular armor systems, sub-components and materials. H.P. White developed many of the ballistics resistance standards, processes and methods used today to test body and vehicular armor for a full scope of applications (law enforcement, military, personal protection), threats (stab, slice, bullet, explosive), and environments (urban, war time, extreme heat/cold). H.P. White's services add value throughout the entire supply chain, from research and development processes and product certification to production lot acceptance and post-production quality control. H.P. White serves the needs of Federal, State, Local and Foreign Government agencies, and the manufacturers dedicated to saving lives of law enforcement and war fighters, globally.