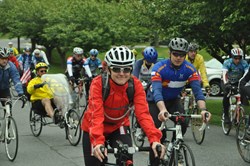 The best part of this ride was actually getting to ride with some of those that we are supporting.
Arlington, Va. (PRWEB) January 15, 2013
Heavy early registration for teams and individuals participating in World T.E.A.M. Sports' April 26-28 Face of America bicycle ride from Washington to Gettysburg is on course to be one of the non-profit's best-attended events in the last decade.
With more than 135 participants and 17 teams from 26 states and the District of Columbia already registered for the inclusive ride, total participation for the April 26-28 event honoring America's disabled veterans should reach the limit of 500 by late March. World T.E.A.M. Sports reports this includes an expected 100 veterans with disabilities from all branches of the service.
Providing an opportunity for able-bodied civilians, active duty and retired military to ride with disabled veterans, the ride begins adjacent to the Pentagon in suburban Washington and concludes at the historic battlefields of Gettysburg, Pennsylvania. The Face of America is fully-supported for participants of all abilities, leisurely traveling 110 miles in two days. New for 2013 are two loop rides from Gettysburg for more experienced riders - a 100 mile loop on Saturday, and a 100 kilometer loop on Sunday. All participants receive a commemorative jersey at on-site registration, along with a commemorative dinner and a celebratory outdoor lunch in Gettysburg at the ride's conclusion.
For participants of the annual Face of America ride from World T.E.A.M. Sports, cycling with disabled American military veterans provides a sense of honor and respect for those who gave so much in support of their country. "The best part of this ride was actually getting to ride with some of those that we are supporting. I've done charity rides before, but they felt faceless as it was hard to see what and who was benefiting from the fundraising," said one participant following the 2012 ride.
In the last decade, Face of America has been the Holbrook, New York-based organization's most popular participant event. The ride began in 2000 as a relay cross-country ride with two teams of disabled riders riding from each coast, meeting at the St. Louis Gateway Arch. In 2002 and 2003, the ride ran from Ground Zero in New York to the Pentagon and honored the victims of the 9/11 attacks on America. In April 2006, the ride was re-envisioned as an inclusive event to honor those who were injured or disabled while serving in the military. Over the next five years, a growing number of disabled Afghanistan and Iraq war veterans have participated, as have additional active duty military and civilian riders.
Each civilian, retired and active duty military participant is required to raise funds from family, friends, co-workers and colleagues to support the participation of the disabled veterans, who pay no registration, transportation or lodging fees, as well as cover event costs. Any remaining funds raised through the event are applied to other World T.E.A.M. Sports events. These include Colorado's Adventure TEAM Challenge, an outdoor team competition with disabled and able-bodied competitors, and events such as the Sea to Shining Sea ride, a bi-annual cross-country bicycle ride for adaptive military veterans.
Registration for participating riders and teams for the Face of America is currently underway online.
World T.E.A.M. Sports is a 501(c)(3) not-for-profit organization chartered in North Carolina and headquartered in Holbrook, New York. For more than 20 years, World T.E.A.M. Sports has organized athletic events for disabled and able bodied citizens – mountain climbing, white water rafting, biking, and more. Four things always happen at our events: (1) Disabled participants build self-confidence and physical fitness; (2) The disabled provide a role model for other disabled citizens, encouraging them to take up physical activities; (3) The disabled become a moving inspiration to other participants and to spectators when they see that disabled individuals can meet challenges beyond anyone's imagination; and (4) The disabled and able-bodied participants learn to work as a team to overcome those challenges. World T.E.A.M. Sports changes lives through sports. Learn more about World T.E.A.M. Sports.