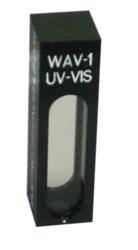 NSG Precision's calibration standards are the only in existence that never need to be recalibrated
Farmingdale, NY (PRWEB) January 15, 2013
One of NSG's best sellers for wavelength calibration (both UV and VIS Range) is the all new WAV-1 UV-VIS holmium oxide which has only been released in mid-2012. This is one of the few great additions to their calibration standards line that is second to none. The all new holmium oxide filter manufactured by NSG has an unlimited life span and can be used in any spectrophotometer making it the most advanced on the market.
As all NSG standards, the WAV-1 UV/VIS Holmium Oxide standard is manufactured with the latest in nanodeposition technology, ensuring that material aging is never a concern. Because of this, NSG Precision's calibration standards are the only in existence that never need to be recalibrated. The holmium oxide is locked in place and will never succumb to material aging.
This recent introduction of the advanced new Holmium Oxide calibration standard has been very useful as a quick and simple means to check the wavelength accuracy for spectrophotometers. Using 10 NIST-compliant peak values between 200-700 nanometers, you can rest assured that you can confirm your spectrophotometer's accuracy with full coverage under the UV/VIS range. The WAV-1 UV/VIS holmium oxide calibration standard can be used for troubleshooting any spectrophotometer and modifying the instrument to the necessary degree of sensitivity.
NSG's holmium oxide standard allows wavelength calibration accuracy of spectrophotometers in the visible (VIS) range which means there is no need to pay premium fees for UV/VIS calibration standards in the VIS range. As what customers have experienced before, expenditures for calibrating wavelength accuracy, especially in the visible (VIS) range, can become rather cumbersome since the tests need to be done often. Not only is time being spent to test spectrophotometer accuracy but there are premium fees for UV/VIS calibration standards. Nonetheless, checking the wavelength calibration of a spectrophotometer is required for accurate analysis and is a requisite. With this new advance made by NSG Precision the WAV-1 UV/VIS Holmium Oxide Calibration Standard helps them economize but with the same results.
Being the most acclaimed forerunners in the spectrophotometer industry, NSG Precision is not only recognized for their high-grade spectrophotometer cuvettes, quality flow cells, fine quartz products and custom glass products but also for their superior holmium oxide calibration standard. As all of the industry knows, the ideal holmium oxide calibration standard should always be NIST compliant. In addition, instructions for a stress free set up can save a great deal of time. However, since holmium oxide filters are relatively a new technology there are only a small handful of establishments that make them.
With over 50 years of expertise and quality customer care, NSG Precision Cells takes honor in delivering high quality products such as a wavelength calibration standard along with many other consummate products. Moreover, NSG Precision Cells not only matches the standards recognized by the National Institute of Standards & Technology (NIST) but exceeds them.
The innovative features of the new WAV-1 NIST Compliant Holmium Oxide Glass Wavelength Accuracy Calibration Standard make it outlast all other competitors in the market. It additionally comes with a unique lifetime warranty which is very convenient for customers. Also included is a thorough and user-friendly instruction manual for using the holmium oxide standard. It also allows wavelength calibration accuracy of spectrophotometers in the visible (VIS) range. Hence, there is no need to pay premium fees for UV/VIS calibration standards in the VIS range.
Moreover, NSG provides the following NIST-compliant peak values for the wavelength accuracy calibration of spectrophotometers: 279.3 nm, 287.6 nm, 333.8 nm, 360.8 nm, 385.8 nm, 418.5 nm, 453.4 nm, 459.9 nm, 536.4 nm, 637.5 nm
About NSG Precision Cells
NSG Precision Cells, Inc. was founded in 1958 and has been growing ever since. NSG Precision Cells, Inc. is a well established, highly regarded quartz manufacturer and we specialize in the manufacturing of quartz flow cells, quartz flow channel cuvettes, quartz microchips, quartz cuvettes, and other quartz optical products.