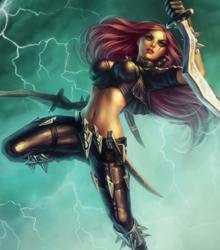 Los Angeles, CA (PRWEB) January 12, 2013
MoonCostumes.Com made recent additions to their large collection of Anime and Cosplay Costumes . If you're a fan of cosplay, you wont want to miss the new items for games like League of Legends, Assassin's Creed, Sword Art Online, and Final Fantasy. There are also new anime costumes for Guilty Crown, Gurren Lagann, Bleach, Naruto, and Fairy Tail.
The big news in this release is their first League of Legends Cosplay outfit. The viscous and sexy assassin Katarina costume includes, a faux leather character inspired jacket, matching pants & top. The outfit is completed with faux leather belts, weapon straps with attached faux daggers and spiky silver armor pieces. Although this is currently the only LoL costume available, Moon says they will have more real soon. League of Legends fans can place custom orders via Moon's online custom order form for other characters if they just can't wait for the next release.
Next in line is the new Assassin's Creed Brotherhood costumes. This includes updated cosplays for Ezio , Ezio Auditore Da Firenze , Harlequin and Hellequin. The Revelations Ezio Auditore cosplay is one of the best we have seen. This item is highly layered with armor, belts, bracers, and weapon sashes. Everything is trimmed with character details, faux fur and embroidery. With the level of detail as high as it comes and materials that feel very durable and sturdy, this outfit should meet the highest expectations.
In addition to the big name games, Moon also caters to niche and smaller venues. They have added four characters from Sword Art Online a hit Japanese Manga and light novel series which depicts the worlds first Virtual Reality MMORPG. Asuna, Rifa Lyfa, Kirito and his Avatar all have their own new costumes.
Hakumen from the Japanese arcade game Blazblue Calamity Trigger now has his own costume. It is a sci-fi styled cosplay , that comes with multiple pieces of cloth armor which are layered to create a very accurate depiction of this samurai-esque warrior.
Mooncostumes.com cosplay shop online keeps most items in stock and ships fast with average delivery times estimated at 4-7 days. They also stock items for other popular anime series and games like Air Gear, FullMetal Alchemist, D.Gray Man, Soul Eater, Vocaloid, Kingdom Hearts, Final Fantasy, Pokemon, Chobits, and more.
Moon also has Costume Shop in Los Angeles, CA which should cover all your cosplay and costume needs. Be sure to call first if you are looking for something unique, as some of the items are custom made and will not be ready for walk in/out service.
MoonCostumes.Com
10867 W. Pico Blvd
Los Angeles, CA 90064
http://www.mooncostumes.com
phone: 401-COSTUME
phone: 401-267-8863
# # #