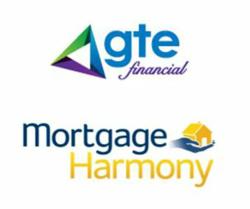 GTE Financial strives to provide greater resources and services that improve our member's lives and their economic stability.
Tampa, FL (PRWEB) January 14, 2013
GTE Financial, a Tampa-based credit union, announced today it is partnering with Mortgage Harmony Corp., a financial services technology company and provider of innovative lending products to offer its members a web-based application that will simplify the refinance process.
The HarmonyLoan™, a lending feature designed by Mortgage Harmony Corp., can be applied to a mortgage or car loan. It allows a borrower with just one click on a personalized, secure, web-based (SaaS) site to adjust the interest rate on their loan without the expense and hassle of a traditional refinance.
"We are looking forward to offering our members a simple and cost effective way to take advantage of market rate changes that better their financial interests," said Joe Brancucci, President and CEO of GTE Financial. "Given the challenges of today's economy, GTE Financial strives to provide greater resources and services that improve our member's lives and their economic stability. Innovation and technology are giving us more opportunity to make positive changes in the lending process for our credit union members."
"Over the last several years, the financial services industry has struggled to address the systemic issues affecting many consumers' inability to take advantage of lower interest rates, especially in the housing market," says Keith Kelly, Mortgage Harmony, CEO. "GTE Financial is the first to contract with us to use our Mortgage Harmony Loan Retention Software (LRS ™) for both car loans and mortgages. We are honored to have GTE and its visionary senior management join us in moving the lending industry forward, and give consumers a more positive lending experience."
About GTE Financial
GTE Financial is a not-for-profit financial cooperative with more than $1.5 billion in assets and 21 Community Financial Centers located throughout West Central Florida. Chartered in 1935, GTE Financial is locally owned and operated in the Tampa Bay area, serving nearly 200,000 individuals and businesses throughout West Central Florida. Get more information at http://www.gtefinancial.org.
About Mortgage Harmony Corp.
Named by the American Banker's Bank Technology News (BTN) as "One of the Top Ten Technology Companies" to watch in 2013, the Mortgage Harmony Corp. designs, develops and distributes innovative lending products for mid-size and large banks, credit unions and mortgage companies. Its mission is to create products and services that properly align the economic incentives of all participants of a loan transaction and bring long-term stability to the finance services industry. The HarmonyLoan™ is a consumer-initiated interest rate-resetting loan feature with a recurring compensation structure for the loan originator. For more information on Mortgage Harmony and the HarmonyLoan™, please visit http://www.mortgageharmony.com.