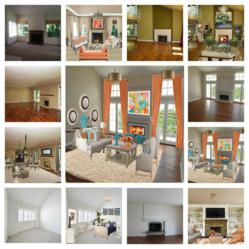 "With an economical and innovative approach to marketing a property, Time Travel Designs can use virtual home staging to get home buyers from cyber space to a seller's front door."
(PRWEB) January 13, 2013
The housing market is showing signs of life after years in the doldrums. With interest rates at record lows and home prices finally reasonable, the time may be ripe for home seller's to get their "move" on with virtual home staging.
Traditional home staging is a proven marketing tool that is ideal for high end home sellers but may not work for most properties. Costly and inconvenient, it remains an inaccessible solution for many homeowners.
"The problem with traditional home staging", says Jaimie Raskin, owner of Time Travel Designs, "is that the costs add up quickly. You have furniture rentals, moving costs...a ticker tape of volatile charges. Watch out for extensions, too! If the property doesn't sell according to plan, those rental charges can get as tall as a beanstalk."
Alas! Time Travel Designs has recently introduced a virtual home staging service that may be exactly what a property owner needs to close the sale. At a fraction of the cost of traditional staging, virtual home staging is a 21st century solution to an age old marketing dilemma.
"There are certainly many situations where traditional staging is appropriate but with housing sales on the upswing, you really need that competitive edge", says Jaimie. "So many properties are sitting empty in our area and virtual home staging is a great solution to get the buyers to your front door."
Indeed, statistics show that 90% of all home buyers start their property search online. "Home photos featuring virtual home staging enable the buyer to imagine daily life in that space and may get them to walk the property." This can be a critical phase for a home sale. How does a home seller get the buyer to the front door? Traditional home staging is a proven solution but may be too costly for most home sellers. Virtual home staging is an extremely economical approach to closing that gap. The room is staged "digitally", that is, with photo real furnishings, and enables potential buyers to imagine the possibilities. "It is a very effective visualization tool for most home buyers." Jaimie says, "An empty or cosmetically challenged property is difficult for most buyers to picture as their own."
Best of all, it brings the effectiveness of home staging to everyone! Jaimie can digitally stage a property and direct traffic to the front door at a price that is accessible to most home sellers. "There are so many benefits to virtual home staging", she says, "There is no expiration date on the decor and the cost is nominal".
But what about the issue of home buyers showing up to find the property empty? "There is chatter about that but, in the real world, not really a problem", says Jaimie, "If the seller indicates that the property has been virtually enhanced for the buyer's benefit,there are no surprises when they arrive for the showing. Full disclosure is always appropriate in every situation", says Jaimie.
Time Travel Designs Virtual Home Staging can be contacted at http://www.timetraveldesigns.com or 805-657-8533.