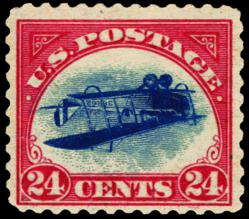 A fellow asked for a sheet of air mails and I handed him one without looking at it. And anyway, how was I to know the thing was upside down? I never saw a plane before. — Postal Clerk who sold the sheet.
Bellefonte, Pennsylvania (PRWEB) January 13, 2013
An "Inverted Jenny" was sold at an auction in June 2005 for $525,000. A block of four "Inverted Jennys" was also sold for $2.7 million in October 2005.
For such a tiny piece a paper, the "Jenny" has a huge history dating back to 1918. On May 6, Congress authorized the United States Post Office to print air mail stamps with a rate of 24-cents and have them ready for sale several days prior to the official inaugural flight on May 15. No easy task.
Three groups would play vital roles in this venture — the U.S. Army Air Corps would provide the plane and the pilot, the Bureau of Engraving and Printing would produce the stamps, and of course, the United States Post Office would supply the mail. With less than two weeks to deliver the stamps, work started immediately designing and printing the first air mail stamps. The design featured a bi-plane, the Curtiss JN-4, thus the name Jenny.
In addition to the time factor, Congress wanted the stamp to be printed in not one but two colors — red and blue. To accomplish this, the Bureau had to revert to an older "Spider" press that would print 100 stamps to a sheet. Two passes through the press were necessary to complete the red and blue design. The first air mail stamps went on sale May 13, 1918. No one knew that out of the two million stamps printed, there were 100 gems.
No one is exactly sure how the Invert happened. It could have happened when the printing plate was removed between impressions and it was rotated when put back. It also could have occurred when the assistant pressman was stacking the sheets after the red print run he inverted rotated one 180 degrees.
William T. Robey now becomes part of history. On his lunch hour, this stockbroker's clerk and avid stamp collector, went to the post office on New York Avenue near 13th Street in Washington, DC to buy some of the newly issued air mail stamps. Being an avid stamp collector, he recognized the printing error immediately. Stamps without perforations or upside-down designs have a way of catching a collector's eye. When the clerk put the sheet down on the counter, Robey's heart skipped a beat. Instead of buying a couple of stamps, he bought the whole sheet.
Upon returning to work, Robey told some friends about his find. Several co-workers immediately went to the post office to buy their own upside-down airplane stamps. A few hours later, postal inspectors were asking Robey to sell the back to them. When he declined, they threatened to confiscate them. Robey went home and hid his treasure under his mattress. Knowing official pressure would increase; he contacted some dealers and sold the sheet. Robey sold his sheet to Eugene Klein for $15,000. Klein immediately sold it Colonel Edward Green for $20,000. The saga of the "Jenny Inverts" began.
"Jenny Inverts" have been bought, sold, donated, stolen, swept up by a vacuum cleaner, featured in movie plots, and encased in a locket. A Jenny even has been wounded. During the Battle of Britain in September 1940, German bombers raided central London. The Inverted Jenny owned by John Crichton-Stuart, was stored at the Chancery Lane Safe Depository. After the bombing the albums in the storage room were under three feet of water. A month later, the Inverted Jenny was found. It has lost its gum, but otherwise wise was in good shape.
You also can have your cake an eat it too at the Unveiling of the 2013 Wedding Cake Stamp in a ceremony at noon on January 18 In Room L4. As a special treat, the Postal Service in Louisville is hosting a Wedding Cake Stamp-Off competition, inviting local bakeries to share their unique wedding cake designs featuring a USPS theme. Judging will begin at 11 a.m. in the lobby of the convention center (4th Street entrance). Judges will include Chef David Dodd, director for Sullivan University's National Center for Hospitality Studies, John Carlos White, publisher and editor-in-chief of Food and Dining Magazine, and Alice Columbo, former assistant food critic for The Courier-Journal. During the ceremony the winner of the contest will be announced. The doors open daily at 10 a.m. and admission is FREE! Friday and Saturday the show runs until 6 p.m.; Sunday until 4 p.m.