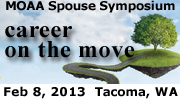 Alexandria, Va. (PRWEB) January 14, 2013
Military spouses, service members and veterans are invited to attend the 2013 MOAA Military Spouse Symposium "Keeping a Career on the Move," hosted by the Military Officers Association of America (MOAA) 9 a.m. to 3 p.m. on Friday, February 8, at the University of Washington Tacoma (Philip Hall) 1918 Pacific Avenue, Tacoma, Wash., 98402. This award-winning event, with executive sponsor TriWest Healthcare Alliance, and with support from the University of Washington Tacoma, is free and open to all military spouses.
Military spouses looking for a job now or preparing for a future career will find workshops, experts and employers who can help. Five minute resume critiques will be available throughout the day.
The day will kick off with a panel of employers that includes representatives from Amazon and USAA, entitled Five Things Employers Want You to Know. Attendees will learn useful information on landing a job as a military spouse and the panelists will answer questions about résumés and the interview process.
Concurrent session workshops include:

Resume Writing and LinkedIn Strategies for Military Spouses
Education Options: What you need to know about funding and picking a school
Your 30 Second Commercial: How to work a networking event or career fair
The Dollars and 'Sense' of Working Outside the Home
There will be a complimentary working lunch during the afternoon workshops, followed by two afternoon sessions:
Real Spouses Real Stories: Careers on the Move
Three military spouses will share strategies on how they managed home and career, built confidence and made the most of military life.
Military Spouse Licensure and Unemployment: Policies that support your family.
All attendees at the annual MOAA Military Spouse Symposium may request an advanced résumé review, regardless of MOAA membership. This is a limited offer only for the spouse symposium attendees who pre-register for the event. There are limited onsite resume reviewers, so this is an opportunity to get a more comprehensive review while you participate in the day. To receive the offer register and follow the instructions at http://www.moaa.org/spousesymposium/.
Professional LinkedIn photos throughout the day is an exclusive benefit for Premium and Life members of MOAA, members of Voices for America's Troops and their spouses. Learn more.
To register and for more information about the Spouse Symposium, please visit http://www.moaa.org/spousesymposium/.
###
About MOAA:
Military Officers Association of America (MOAA) is the nation's largest officers association with 370,000 members from every branch of service, including active duty, retired, National Guard, Reserve, and former officers and their families and survivors. MOAA is a nonprofit and politically nonpartisan organization and an influential force in promoting a strong national defense. MOAA represents the interests of service members and their families in every stage of their lives and careers, and for those who are not eligible to join MOAA, Voices for America's Troops is a nonprofit MOAA affiliate that supports a strong national defense. For more information, visit http://www.moaa.org