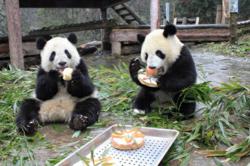 Westlake Village, CA (PRWEB) January 14, 2013
Accessory Power's donation of 5% of Panda Pal net profits to Pandas International Bamboo Project gave Giant Pandas Christmas treats over the holiday season. Giant Pandas at the China Conservation and Research Center for Giant Panda (CCRCGP) in Gengda, China, ate apples, shrub leaves and honey arranged in a holiday design.
Accessory Power has supported Pandas International since August 2011, when Accessory Power began the sales of panda-shaped speakers called the Panda Pal. Pandas International has used the funds to restore bamboo forests which makes up 99% of a panda's diet.
Pandas International, a registered 501(c)(3) non-profit based out of Colorado in the United States, is dedicated to the "preservation and propagation of endangered Giant Panda." The organization provides assistance to the CCRCGP by raising funds for research, educating the public, as well as medical supplies and food for the animals.
In May 2008, the 7.9 Sichuan earthquake in China devastated the China Conservation and Research Center for Giant Panda in Wolong. Over four years passed before the center was relocated to Gengda, where it is now a part of the Wolong Nature Reserve. Pandas International has been a part of the restoration and relocation of this facility.
Along with Pandas International, Accessory Power will continue its support of endangered species with the upcoming production and sales of the GroovePals and GroovePals Jr: speakers in the shape of an owl, tiger, penguin, polar bear, koala and as well as an updated version of the panda.
For further information regarding Accessory Power and its products, visit http://www.accessorypower.com
# # #