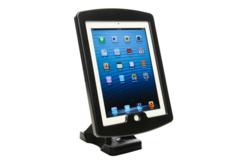 We've taken this product's features to the extreme and believe it will be a game-changer for tablet enclosures.
San Diego, California (PRWEB) January 11, 2013
Archelon Enclosures, a leading manufacturer of iPad® and tablet enclosures, will release the Archelon XTR in January 2013. The XTR, manufactured in the USA, offers XTREME Security and XTREME Performance.
The first product of its kind, the Archelon XTR offers capabilities such as a lock and key detachable frame for mobility, 180 degree complete flip with multiple viewpoints, concealed cord management and a charging base. The Archelon XTR shares the same viewing options as its predecessor, the Archelon EXO, such as portrait, landscape, side-to-side, and up and down. The 180 degree flip is unique to the XTR, allowing the ability to view the iPad from both sides of the counter. All cables fit securely inside the frame of the enclosure and are wired inside the base of the stand to charge the iPad®. Since the base of the unit is a charging dock, no cables are exposed. The Archelon XTR's sleek stand is engineered to complement the iPad® rather than compete with it.
The Archelon XTR gives users the option of using the iPad® to its fullest mobile capacity, while still having the security aspect with the lock and key system. The XTR also includes accessories such as an ergonomic swivel handgrip and/or shoulder strap that attaches to the frame to help users that require a truly mobile experience. The enclosure was also designed with a point of sale solution in mind, having modular adapters to accommodate a variety of different magnetic stripe readers (MSR's). From 30-pin to audio jack, the adapter kit gives users choice and flexibility. The Archelon XTR is ideal for point of sale, restaurant table-side service and applications, as well as many others including retail, hospitality, medical centers, schools, universities, and trade show displays.
"The Archelon XTR offers users flexibility, mobility and functionality," stated Debi Besmer, Managing Partner of Archelon Enclosures. "We've taken this product's features to the extreme and believe it will be a game-changer for tablet enclosures."
To learn more about the extreme features of the Archelon XTR, visit http://www.archelonenclosures.com/products.
About Archelon Enclosures
Archelon Enclosures is a Division of Motivational Systems, Inc. Headquartered in San Diego, California, Motivational Systems, provides graphic and interior design services, complete sign systems, and custom interior displays and furnishings to residential and commercial builders and developers. Our sales and information centers, sign programs, graphic design and architectural models are consistently honored with local, regional and national awards. MSI is dedicated to being a contributing member of the communities in which they do business and provides an environment of opportunity for both client and employee to exceed their highest expectations. Motivational Systems was established in 1975. For further information, please visit: http://www.motivationalsystems.com or http://www.archelonenclosures.com.