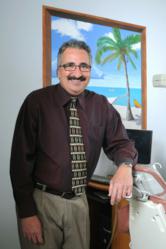 Monroe, CT (PRWEB) January 14, 2013
Gum disease affects nearly half of American adults ages 30 and older, a new study finds. The study was published Aug. 30, 2012 in the Journal of Dental Research. Periodontitis is an infection of the gums and a major cause of tooth loss in adults. Not only can this cause serious dental issues, but periodontal disease has also been linked to other serious health problems such as heart disease, pancreatic cancer and diabetes. Dr. Amato hopes that the benefits and ease of the new LANAP procedure will help more patients seek the treatment they require.
Only one percent of dental professionals in the US have received the necessary training to perform LANAP. Dr. Amato has had incredible success using the PerioLase MVP-7 laser and LANAP procedure to treat gum disease. This laser is highly selective, so that only the bacteria and the diseased gum tissue are removed.
One of the benefits of this treatment is that leaving all of the healthy tissue intact allows for minimal gum recession. In addition, the laser dissolves the diseased tissue with little or no discomfort to the patient. It kills the bacteria that cause gum disease and the laser actually stimulates the bone to regenerate.
Adults need to realize the dangers of not getting treatment for periodontal disease. Gum pain and bleeding, receding gums, mouth infections, loose teeth, and even tooth loss are often the result of not getting timely treatment. Visiting a periodontist to receive treatment is easier than ever with the new LANAP procedure. For those planning on seeking treatment, it may be helpful to note that the recovery time from LANAP is minimal and many people can return to normal activities the same day as the procedure. Find more information on the LANAP procedure at http://www.connecticutperiodontist.com.
Dr. Richard Amato is a periodontist offering patients personalized dental care for Southwest Connecticut since 1989. Dr. Amato received his Doctorate of Dental Surgery degree from Stony Brook University where he was awarded the School of Dental Medicine Department of Periodontics Award for Excellence in Periodontology. Dr. Amato completed a specialty post-doctoral residency and received his Certificate of Proficiency in Periodontics from Eastman Dental Center at the University of Rochester. He is the first and only periodontist in Fairfield County providing the most recent FDA approved laser procedure for gum disease and periodontal treatment. To learn more about Dr. Amato and his dental services visit his website at http://www.connecticutperiodontist.com and call (203) 712-0917.