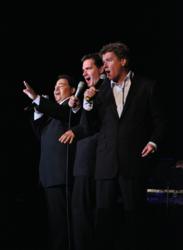 Modesto, CA (PRWEB) January 12, 2013
Since the inception of "The Three Tenors" in 1990, Plácido Domingo, José Carreras and Luciano Pavarotti opened the doors for other great voices, such as the Irish Tenors, The Canadian Tenors and many more talented and renowned performers.
Now three of New York's premier voices—Andy Cooney, Michael Amante and famous 9/11 first responder, Daniel Rodriguez—have joined together to honor the city of New York and our great nation. They will perform at the Gallo Center for the Arts on Saturday, January 19 at 8 pm.
Tickets range in price from $29 to $59 and are on sale now. Groups of 15 people or more qualify for a 15% discount. Tickets are available online at GalloArts.org, by phone at (209) 338-2100, or at the ticket office, 1000 I Street in downtown Modesto.
The New York Tenors combine the artistry of three men who alone are superb, but together provide an emotionally powerful showcase of Broadway, movie, opera and American classics such as "Impossible Dream," "Who Can I Turn To," "This is The Moment," "New York, New York," "Ave Maria," "Danny Boy," "America The Beautiful" and more!
The New York Tenors are sponsored by Twigs and Stems. Boyett Petroleum is the Gallo Center's 2012-2013 Premier Partner.