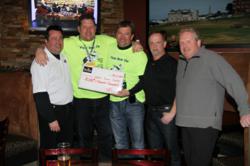 Oakville, ON (PRWEB) January 31, 2013
On January 1st, 2013, about 700 courageous souls braved the cold waters of Lake Ontario at Coronation Park in Oakville, Ontario for the Courage Polar Bear Dip in support of World Vision Canada. The 'dippers' – some in nothing but bathing suits, others in fun & festive costumes – excitedly ran into the lake cheering, laughing & screaming. Some could only bear the chilly waters for a matter of seconds and then scampered back to the warm blankets and jackets that awaited them ashore. Others truly seem to be in their element, diving in head-first, and apparently in no rush to return to warmer conditions. But everyone who participated should be thoroughly commended for their contribution to this worthy cause.
The Courage Polar Bear Dip is the largest dip of its kind in Canada. The 'Courage' part of the name actually has a double meaning. First, there's most definitely more than an ounce of courage necessary to partake in such an event. But secondly, the event began as a family tradition back in 1985 with the Courage brothers – Trent & Todd. In 1995 the Courage brothers began their charitable partnership with World Vision Canada. Since that time the Courage Polar Bear Dip has supported various World Vision clean water projects across the globe, thus came the slogan for the event "Water for Water".
This year was of particular significance for the event because it surpassed the $1,000,000 mark in terms of total funds raised for World Vision Canada since 1995. A total of $120,000 was raised this year which will go towards a clean water project in Kahi, Rwanda.
Over the last 5 years, Tin Cup Sports Grill, has been a significant supporter of the event. This year Tin Cup presented a cheque for $20,000 to the Courage brothers for World Vision Canada. Over the last 5 years, Tin Cup has raised over $55,000 for the event.