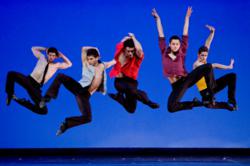 "Bad Boys of Dance are bad indeed, as in wickedly good."
Chicago Tribune
Modesto, CA (PRWEB) January 14, 2013
"The Bad Boys of Dance are bad indeed, as in wickedly good," says the Chicago Tribune, as Central Valley dance fans are about to find out when the troupe makes its debut at the Gallo Center for the Arts on Tuesday, January 22 at 7:30 pm.
Tickets range in price from $15 to $45 and are on sale now. Groups of 15 people or more qualify for a 15% discount. Tickets are available online at GalloArts.org, by phone at (209) 338-2100, or at the ticket office, 1000 I Street in downtown Modesto.
Founded by former international ballet star Rasta Thomas, and featured on the hit television show "So You Think You Can Dance?", Bad Boys of Dance has been hailed by critics as utterly original, sexy, athletic, entertaining and fun. Their performances feature choreography fusing contemporary, jazz, musical theater, ballet and hip hop dance styles, with a dash of martial arts and gymnastics. Set to a soundtrack including Prince, U2 and Queen, Bad Boys of Dance pushes the boundaries of dance.
Boyett Petroleum is the Gallo Center's 2012-2013 Premier Partner.