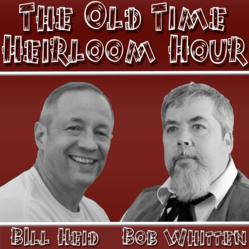 We get something in our head for how the show will go. Then we start to branch out into something a little crazy. Finally, on the day of the show, we put it in the hands of Bob Whitten and Bill Heid. It's a lot like throwing dice at a craps table."
Thomson, IL (PRWEB) January 12, 2013
The Old Time Heirloom Hour keeps building more and more traction in the small village of Thomson, IL. Aaron Fullan, an employee of The Heirloom Market & Café said, "We keep getting more and more people in to watch this show. This weekend we were almost at capacity with people that wanted to see this fun show."
According to Nick Huizenga, the production manager of the show, "We get something in our head for how the show will go. Then we start to branch out into something a little crazy. Finally, on the day of the show, we put it in the hands of Bob Whitten and Bill Heid. It's a lot like throwing dice at a craps table."
This week Whitten blesses Heid with a late Christmas present that is more of a dysfunctional redneck science project than a present. The present is a homemade Zamboni machine for the ice skating rink that consists of a push lawnmower, bungee straps, and a deck chair. Things start to unfold when his good friend Ron Abbott sits down on this contraption but all hell really breaks loose when the whole contraption is driven by a blind dog and a polish sausage on a fishing pole.
The one aspect of this hilarious show that provides a sense of consistency is The Ryan Getz Band. This local bluegrass band hailing from Galena, IL provides some stability to the show with their truly outstanding renditions of some very traditional bluegrass music. This three person band consists of Ryan Getz on acoustic guitar/vocals, Scott Rische on mandolin/vocal, Riley Schultz on fiddle/vocal.
During the show, hosts Heid and Whitten are joined by special guest, "Bait Shop Todd" Baker to talk about where the local people are catching all the fish. Things take a "weird" twist when Heid starts to talk to Todd about the psychology and body language an ice fisherman can put off to be accepted among other ice fisherman.
To wrap up the show, they show an exciting new trailer for a YouTube exclusive video. The trailer features The Heirloom Market & Café's very own, Aaron Fullan as the character, Sherlock Holmes.
To catch the entire recording of The Old Time Heirloom Hour go to…[http://www.theheirloommarket.com/oldtimeheirloomhour.html
# # #