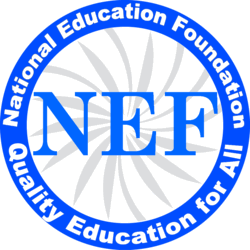 (PRWEB) January 11, 2013
NEF has created an innovative solution. The National Education Foundation in its efforts to provide STEM Academies has found that many school districts' budget does not afford the opportunity to implement adequate STEM educational resources. NEF has created an innovative program, CyberLearning platform that addresses the financial concerns of school districts. The Adopt-a-School Program is a great way to bridge the gap between businesses and non-profits. This private-public partnership creates a working relationship that can bring about a social change, specifically provide STEM education resources to disadvantaged schools. The vision of the program is to train a million employees in job skills below the market fee, and use the funds to provide world-class STEM education to a million students of schools adopted or chosen by the businesses/employers
Now that Congress has avoided the fiscal cliff where does this leave school Superintendents? They are still pondering how the budget concern does affect their bottom line. This school year, many school districts have had to significantly scale back the programs and opportunities offered to their students. One such program is access to STEM pipelines for student to explore science and mathematics as well as teacher STEM training. STEM skills are at the forefront of the discussion in America's halls of education. The need for STEM skills is elevated in today's global economy. Innovations in technology has heightened the demand for a STEM capable workforce; despite this high demand the US is following short in producing an ample supply of workers to meet demand. "According to the U.S. Labor Department, US alone has 13 million people looking for jobs. At the same time, US has 3 million jobs looking for qualified skilled people," states Dr. Kuttan.
The initiative provides top-quality training, using online courses and online live teachers, in IT, business and management to businesses at a fee that is 80% below market fee, and utilizes the funds ($190 per employee) paid by businesses to set up a free world-class STEM+ academy for students in a school chosen by a business. Businesses can choose from 5,500 CyberLearning courses including 60 much-in-demand IT, Business and Project Management certifications.
This opportunity provides businesses with annual training costs savings. Typically a significant portion of a business budget is dedicated to staff training. This program would provide a less expensive training module along with benefiting schools. Schools get world-class STEM+ academies, and the students receive world-class individualized STEM + education, capable of advancing a student in a subject like math in 20-30 learning hours.
This national initiative is a win-win-win program for businesses, schools and students throughout the US. This public-private partnership provides schools world-class Academies at no cost to the schools! The program has been lauded by the US Congress and the US Department of Education as an innovative approach to bridging the 21st century academic and job skills divides.
For more information, visit http://www.cyberlearning.org, or call NEF at 703-823-9999.
About NEF
The National Education Foundation (NEF) is the national non-profit leader in bridging the academic and job skills divides by providing world-class education STEM (Science, Technology, Engineering, Math), English, test prep, digital literacy, IT, business and management, education to millions of disadvantaged students and adults. See http://www.cyberlearning.org.