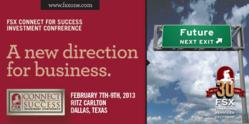 Dallas, Texas (PRWEB) January 16, 2013
FSX Executive Director, Judy Ensweiler, discusses joint venture with Interlinked. This venture has greatly expanded FSX's reach and opened up new opportunities for companies that present at their quarterly Investment Conferences. FSX and Interlinked launched FSXInterlinkedTV, a Web Channel that hosts exclusive video interviews of companies that presented at the last FSX Investment Conference. In its first two months companies are already getting a tremendous amount of global exposure.
Financial Services Exchange, Inc. ( FSX ) is a premier investment conference organization founded in 1983. Meeting four times per year in a different major U.S city, FSX connects emerging growth companies with a nationwide network of financial investment professionals. The CEOs and other Executive Officers of the presenting companies come together at the quarterly investment conferences with the principals and key decision makers of the Broker/Dealers and other financial firms. These are the people who can make the decisions, sign the contracts and get the deals done.
Interlinked is a private and exclusive network of Investors, companies and partners working together for one purpose. Interlinked understands you need to balance the efficiency of technology and the personal touch of physical interactions at the right time in order to be successful. Interlinked has created a set of processes and technology, and established partner relationships, that help their members achieve this balance. Interlinked is a system that is fully customizable to their member's needs. Interlinked acts as a catalyst constantly working on their members behalf to achieve their goal. Here are a few services Interlinked provides to its members.

IRocket Automated Campaigns – IR, PR, Capital Raise, Conference follow-up, full-impact communications programs including business and financial media, trade press, analyst relations, message-development, product reviews, social media and interactive marketing, press releases, video interviews, etc.
InterlinkedTV –Investor Web Channel focusing on the production and distribution of private and exclusive videos for high growth companies marketed to Investors
Ideal room – SAS70 compliant data room. Safe, Secure and Simple to use. PPM, videos, Power Point, financial documents etc.
Media Packages
About FSX & Interlinked
FSX is one of the most reputable and established national alliances in the country for the independent broker/dealer network, providing education and opportunity. At each FSX conference, we bring the CEOs and executive officers of the presenting companies together with the principals and key decision makers.
Interlinked is designed to be the most efficient and powerful system available in assisting its members in finding one another, building relationships and ultimately do business together. Interlinked is a private network and it is not open to the public. You must be invited or apply to be part of the community. Our proven process utilizes four primary systems: one, through our custom automated campaigns (IRocket), second through media InterlinkedTV, thirdly our Ideal room, fourth, through our relationships with strong partners and events.