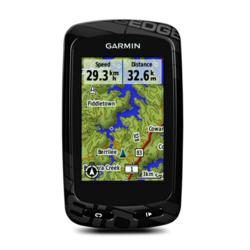 we don't go crazy rehashing technology that has been present forever but rather look more deeply at the positive aspects of any new changes and also the downside
Bozeman, MT (PRWEB) January 13, 2013
The Heart Rate Watch Company blog has put out a new blog post analyzing the upgrades and changes in the new Garmin Edge 510 and Edge 810. New features are assessed that were not present in Garmin's previous generation of bike computers.
"As with all our blog posts, we don't go crazy rehashing technology that has been present forever but rather look more deeply at the positive aspects of any new changes and also the downside", says Rusty Squire, President of the Heart Rate Watch Company. He adds, "We've already had several Team Rockford members out evaluating the changes, like the new Garmin Edge out front bike mount".
EDGE OUT FRONT BIKE MOUNT POPULAR
The new Garmin out front bike mount comes with both the 510 and Garmin Edge 810 bundles, but not with the non-bundled packages. This accessory puts the bike computer screen forward of the handlebars and increases the field of vision about 25 degrees over the stem mount computers. "The pros have used these for a few years now and they are definitely the way to go for safety and security", says Squire. He adds, "This was our top new bike accessory of 2013 and Ryan Hamilton said he loved it after a couple rides with it".
Former Garmin 800 features like the touch screen navigation and screen display with double the metrics per screen have migrated their way into the new Edge 510.
One of the most interesting new features is the instant upload which occurs as the Garmin 510 and 810 both upload data through a smart phone to training software or to social networks. This allows tracking and it allows for those interested in someone's training to see their metrics and location in real-time. "This feature is awesome from a safety perspective and also from a social perspective", says Squire.
The complete review for the Garmin Edge 510 and 810 can be read at the Heart Rate Watch Company blog and we'll report back further as Rockford bike team members have the time to put these new devices through the paces longer term in early season training.