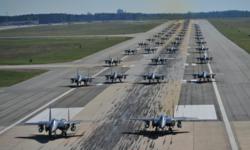 The exercises and additional F-15E Strike Eagle flying, ensures base Airmen are prepared to support overseas contingency operations and effectively complete the mission of the 4th Fighter Wing: to provide Strike Eagle airpower, whenever and wherever it is
Seymour Johnson AFB, Goldsboro, NC (PRWEB) January 11, 2013
The 4th Fighter Wing will conduct an Operational Readiness Exercise Jan. 14-17. Local residents can expect increased jet noise, low-level flying and loudspeaker announcements throughout the day and possibly until 1 a.m. Entry and exit delays are possible at all gates during this time.
During the hours of 10 a.m. through 12 p.m. on Monday, Jan. 14, the base will conduct an Active Shooter Exercise as part of the week's events. During this time, all gates will be closed from 10:30-11:30 a.m. and no entry or exit will be permitted.
Please advise all applicable community members of these events to ensure proper planning can take place.
The exercises and additional F-15E Strike Eagle flying, ensures base Airmen are prepared to support overseas contingency operations and effectively complete the mission of the 4th Fighter Wing: to provide Strike Eagle airpower, whenever and wherever it is needed in defense of our nation.
For more information, contact the 4th Fighter Wing public affairs office at (919) 722-0027 or 4fw.pa(at)seymourjohnson(dot)af(dot)mil.
Scheduled May 18-19, 2013.
Colonel Jeannie Leavitt, Base Commander and first female fighter pilot in the U.S., extends a public invitation to attend the Wings Over Wayne Air Show at Seymour Johnson AFB in Goldsboro. The air show will salute our service men and women around the globe, past and present. Leavitt plans to pay tribute to Operation Homecoming on its 40th anniversary, when POWs in North Vietnam were released from captivity.
Major Steven Bofferding, Air Show Director and F-15E pilot commented, "This biennial exhibition has attracted an incredible array of aircraft and skilled pilots. Seymour Johnson will truly feature one of the world's best Air Shows of 2013." The last air show in 2011 drew over 175,000 visitors from across the country.
YouTube Aircraft Preview
Photo Gallery
The Blue Angels
Media contacts:
Maj Steven Bofferding, Air Show Director, Seymour Johnson AFB, Goldsboro, North Carolina, USA, 919-722-3543, Steven.Bofferding(at)seymourjohnson.af(dot)mil
Lt Keavy Rake, 4th Fighter Wing Public Affairs, Seymour Johnson AFB, Goldsboro, North Carolina, USA, 919-722-1030, Keavy.rake(at)seymourjohnson.af(dot)mil
NCPressRelease.com, Robert B. Butler, Raleigh, Wilmington, Wrightsville Beach