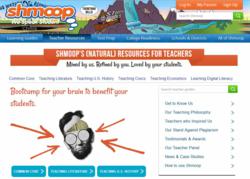 Mountain View, CA (PRWEB) January 14, 2013
Think that there isn't much new in the world of Gatsby? Wrong. Check out Shmoop's edgy new suite of teacher-helper (second cousin of Hamburger Helper). Shmoop produces a broad series of Teaching Guides designed to help teachers...teach… better.
Priced at $10.66 (as Shmoop notes, the year England more or less IPOed), Shmoop's materials open views on literature, which even well-seasoned teachers may have not considered. The affordable guides include — among other helpful hints — detailed activity ideas, essays on how to tackle the toughest aspects of each book, and potential essay and discussion questions.
And here's what's new in the world of Shmoop Teacher Guides:

New activities and reading quizzes have been added to some of Shmoop's most beloved guides including The Great Gatsby, Of Mice and Men, and Macbeth.
These popular Guides also have a brand spankin' new vocab section.
Shmoop has completed a total overhaul of many of the already awesome activities for each Guide.
About Shmoop
Shmoop is a digital curriculum and test prep company that makes fun, rigorous learning and teaching materials. Shmoop content is written by master teachers and Ph.D. students from Stanford, Harvard, UC Berkeley, and other top universities. Shmoop Learning Guides, Test Prep, and Teacher's Editions balance a teen-friendly, approachable style with academically rigorous materials to help students understand how subjects relate to their daily lives. Shmoop offers more than 7,000 titles across the Web, iPhone, Android devices, iPad, Kindle, Nook, and Sony Reader. The company has been honored twice by the Webby Awards and was named "Best in Tech" for 2010 and 2011 by Scholastic Administrator. Launched in 2008, Shmoop is headquartered in a labradoodle-patrolled office in Mountain View, California.
# # #
Many new Guides have been produced for young adult lit, bringing Shmoop square into the world of middle school.
These teacher materials have become a hit on Shmoop, and the company is rapidly producing more across a variety of topics like African American literature, drama, and female authors. Bundle up and save.