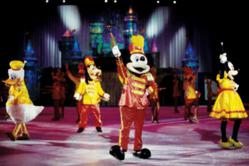 Denver, CO (PRWEB) January 12, 2013
Now celebrating its 15th year, Disney On Ice: 100 Years of Magic is still hot. Currently playing in Reading, Pennsylvania through January 13, 2013, the production glides on to open in Wilkes Barre on January 16th.
A celebration of 65 Disney characters from 18 beloved stories, the production continues to get five stars from fans – and critics – of all ages.
After playing in Pennsylvania, the show moves on to London, Canada on January 24th, with upcoming dates in Binghamton, Rochester, Milwaukee, Green Bay, Grand Rapids, and Wichita for a summer wrap in March. Fall performances are booked to start in Chicago on September 11, 2013.
"Based on our latest analytics, online traffic for Disney On Ice: 100 Years of Magic tickets is soaring," said Felina Martinez at online ticket marketplace BuyAnySeat.com. "Although many of the performances in upstate New York and Wisconsin are starting to fill up, we're proud to be able to offer families Disney On Ice: 100 Years of Magic tickets, with a worry-free guarantee to protect their purchase," said Martinez.
"In fact, we have a great selection of tickets now available on our site," said Martinez. "To access the complete selection of tickets we now have available, customers can go to BuyAnySeat.com and search for Disney On Ice: 100 Years of Magic – then select their tickets," said Martinez.
The original 100 Years of Magic production opened on September 3, 1999. Over the years, characters have been added to keep the production current, including favorites from Finding Nemo, Lilo & Stitch and The Incredibles. Known for its popular musical numbers, superb choreography, familiar sets and costumes, and expert skating routines – the show features all of the Disney favorites from Mickey Mouse, Minnie Mouse, Goofy, Donald Duck, Jiminy Cricket, and Pinocchio to almost all of the Disney princesses.
In addition, magic moments from Aladdin, The Lion King, Mulan, Finding Nemo, Toy Story and other stories are faithfully reenacted during the two-hour performance, much to the delight of fans of all ages.
Disney On Ice productions began in 1981 under the name of Walt Disney's World on Ice. The name was changed to the current moniker in 1998, one year prior to the debut of 100 Years of Magic. The Disney On Ice franchise features over eight productions and touring companies at any given time.
Typically, new shows debut and play in North America for two years and then head on to Japan for the third year, and Australia, England, and other parts of the world for the fourth year. Beyond that, shows such as 100 Years of Magic normally return to the Americas for the fifth year, then trek around the globe and back in succeeding years. (Source: Wikipedia.com)
To shop for cheap Disney On Ice: 100 Years of Magic tickets, visit BuyAnySeat.com.
About BuyAnySeat.com: An online ticket marketplace, BuyAnySeat.com connects sports, theater and other live entertainment fans to an extensive worldwide network of ticket sellers. The site's simplified listings and navigational tools enable fans to easily locate, compare and purchase inexpensive, discounted or lower-priced tickets to virtually all advertised sports and entertainment events around the globe. The site, which is PCI-compliant and Norton Secured, also provides customers with a complete Worry-Free Guarantee on all ticket purchases. Based in Denver, Colorado, BuyAnySeat.com is a subsidiary of Denver Media Holdings. For more information, please visit http://buyanyseat.com.