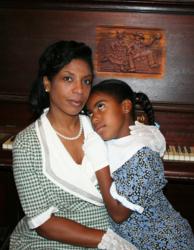 Modesto, CA (PRWEB) January 17, 2013
The Gallo Center for the Arts joins forces with the new African American acting troupe in Modesto, Sankofa Theatre Company, to present "The Piano Lesson," the haunting, dramatic play that earned August Wilson his second Pulitzer Prize.
The production is scheduled for three performances, Friday through Sunday, February 1 - 3.
Tickets are $12, $15 and $20. Groups of 15 people or more qualify for a 15% discount. Tickets are available online at GalloArts.org, by phone at (209) 338-2100, or at the ticket office, 1000 I Street in downtown Modesto.
At the heart of the play's story stands the ornately carved upright piano that has been gathering dust in the parlor of Berneice Charles' Pittsburgh home. When Boy Willie, her exuberant brother, bursts into Berneice's life with his dream of buying the same Mississippi land that their family had worked as slaves, he plans to sell the antique piano for cash to stake his future. Berneice refuses, clinging to the piano as a reminder of the history that is their family legacy.
Sankofa Theatre Company was founded by John Ervin III, Elizabeth S. Garmon, Cheryl Knox and Greg Savage.
"The partnership between Sankofa Theatre Company and Gallo Center for the Arts is a commitment to expose our diverse community to the history and life of African Americans through a kaleidoscope of quality, locally-produced performing arts," said Ervin. "This will further build cultural bridges of understanding and appreciation for the African American experience."
"The Piano Lesson" includes members of the creative team that presented "To Kill a Mockingbird" at the Gallo Center in 2011. The director is Jim Johnson. Cast members are John Ervin III; Dwight D. Mahabir; Elizabeth Garmon; Cheryl Knox; Greg Savage; Adam Torrian; Samuel J. Mellor; Keiauna Ervin; Samara Garmon, and China Hunter. The production team includes Jack Souza, set design; Shannon Wren, set construction; Jill Mochizuki, costume design, and Teresa Hixon, stage manager.
Boyett Petroleum is the Gallo Center's 2012-2013 Premier Partner.