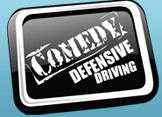 (PRWEB) January 20, 2013
Comedy Defensive Driving will now offer courses online starting at $25 USD for drivers who want to continue their education, further their defensive driving skills or fulfill a legal driving school requirement.
Defensive driving classes can be expensive in the real world, and a $25 alternative online makes the class possible for those who lack the time or the money to complete the classes otherwise. Classes are also available in real classrooms, with popular states for Comedy Defensive Driving school including Texas and Florida. Comedy Defensive Driving classes offer a certifiable class experience, making it possible to complete traffic school for ticket violations in another environment at little cost.
In addition to being inexpensive, the online classes offered by Comedy Defensive Driving are convenient and easy-to-complete when compared to brick-and-mortar class alternatives. Students can complete online courses at their own convenience, and the online classes require no textbooks or reading, with the lectures and teaching completely in video form. Once the course is complete, Comedy Defensive Driving offers same-day certificate processing, which is often unavailable when students complete the courses using in-person alternatives. For students who prefer the brick-and-mortar experience, Comedy Defensive Driving offers a classroom alternative that is similar in terms of workload and education. Comedy Defensive Driving options are available online at http://www.comedydefensivedriving.com
About Comedy Defensive Driving:
Comedy Defensive Driving offers classes in two separate formats to improve defensive driving skills in an interactive environment. A money back guarantee ensures that every defensive driving student leaves satisfied or receives his or her money back. Both online and brick-and-mortar classes with Comedy Defensive Driving take six hours to finish, and can serve as qualification for legally finishing traffic school in the case of traffic violations.