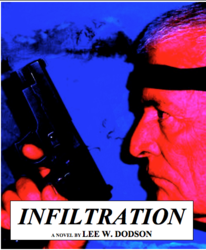 "The book is a one-against-a lot adventure, very personal, and it tells a plausible, even possible, story. It's a perfect page turner that can get a new user into a Kindle, Nook, or e-reader of any kind."
Los Angeles, California (PRWEB) January 12, 2013
Latest results from Lee Dodson, author of Infiltration, Homeland Terrorism Survey bring more bad news for the government's presumed approach to Homeland Security. Initiated on October 15, 2012, the small, and admittedly unscientific, survey to test the pulse of his potential readership as to their present sense of the condition of emergency preparedness in the event of another terrorist attack grew virally to 1,800,000+/- .1% from four press releases and a variety of twitter posts.
"My readers think the probability of another large scale attack is very high, 98%+, more, 99%, believe there will be great loss of life due to a weapon of mass destruction. An equal number think it will be a weapon of mass destruction," Dodson said. "Fully 99% of respondents believed they would have to defend themselves at some point, which kind of puts wrecks current 2nd Amendment discussions of the last few weeks."
"Twitter absolutely brims with outrage over any attempt to disarm the public, and I think my survey demonstrates the reason," Dodson added. "The survey was an information sales tool to sell Infiltration, and it went ballistic."
Asked if the Mainstream Media had contacted him, the writer shook his head. "Nothing, but smaller venues have shown an interest. Interesting that my press releases have been widely picked up by these folks, one would think that with numbers like nearly two million responders, someone at the Alphabets would have noticed. I am scheduled on several radio outlets right now to talk about the survey and the books. I'll take anyone that asks."
What about the book? "I've been blessed that the piece was mentioned by Glenn Reynolds on his blog, Instapundit.com, and that was picked up but more bloggers, and that kicked up my readership quite a bit."
What are your readers saying? "Infiltration is getting five star reviews on Amazon and other outlets. The only complaints have been from quite a few that if they start the book late at night, they don't get to sleep before 3:30 am. Then some can't sleep at all. By and large, they say they are hooked by the third page and don't want to put it down.
"My book is about warfare inside our borders, fought by a man who wants to be left alone. You might say he is conscripted by events, and this ties directly to what the survey responders sense. Fully 69% (one and a quarter million people) feel the government is not telling the whole story about terrorism here at home, and it is criminal to me that 87% (over one and a half million responders) think they don't know what to do should a local attack come," Dodson said. "Look at the data. It means something."
Today's view on homeland terror
Do you expect another major terrorist attack on the United States, including Hawaii, Alaska, or any of its territories?
Yes 98%+----No 1%-
Do you expect there to be great loss of life?
Yes 99%----No 1%
Do you expect a WMD to be used in the attack, i.e. poison gas, biological weapon, nuclear weapon?
Yes 99%----No 1%
Do you expect foreign nationals to carry out an attack?
Yes 95%----No 5%
Do you think sleeper cells are already in the United States?
Yes 97%----No 3%
Do you think you might have to defend yourself from terrorists in this country?
Yes 99%+----No 1%-
Do you think the U.S. government will be able to defend against a homeland invasion?
Yes 46%----No 54%
Do you believe that the current administration is truthful about terrorism in this country?
Yes 31%----No 69%
Do you think that we as a nation believe that terrorism is over?
Yes 31%----No 69%
Do you know enough about what to do if a terrorist attack strikes near where you live or work?
Yes 13%----No 87%
Asked what the numbers mean, the writer said "Well, disarming the American public would be a major mistake, considering what survey responders are thinking. They have a terrific sense of a need to prepare. My book addresses exactly that sense."
"The book is a one-against-a lot adventure, very personal, and it tells a plausible, even possible, story. It's a perfect page turner that can get a new user into a Kindle, Nook, or e-reader of any kind." Dodson said. "A good Kindle story makes the difference between a good Kindle and an unused Kindle."
"I never ask anybody to "buy" the book. I ask them to read Infiltration. That's where the interest is. It's doing well right now, and I expect it to do great as readers start talking about it. I've been told it's a fun, fast read, like a movie inside your forehead. Good for a writer to hear."
Dodson's book, Infiltration, is now available at Amazon, iTunes, Barnes & Noble, Kobo, Diesel, and Smashwords in all formats.
Price: $3.33
323-243-0404
vndk8r(at)gmail(dot)com
http://www.skoshitiger.com/
Twitter: skshtgr11