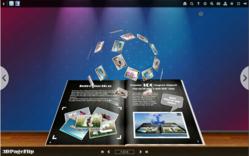 (PRWEB) January 12, 2013
Today, 3DPageFlip.com, a professional software supplier, announces releases that its new product, 3D PageFlip Professional, a flip book maker with 3D flash effect, is available now.
3D PageFlip Professional is specially designed for users to convert their PDF to flip book with realistic 3D flash effects and stunning page turn effect. It just takes few minutes to convert PDF files into live and searchable digital editions. Moreover, users don't need a technician. It is very simple and comfortable throughout the process from PDF to flip publication.
"It is certainly a new product in the flipbook market, and its most attractive advantage is that it can make an appealing 3D flash effect, improving the optical effect of page flip obviously to a fantastic visual feast." Said, Sharry Hou, a senior engineer of 3DPageFlip.com
Besides, audio/video, hyperlinks, and user's company logo can be embedded in the 3D flipping book, and users can edit them online, offline, or burn it to a CD/DVD, or use it with a USB storage device. Users can also do reading in 360 degree vision by dragging eBook to rotate and spin.
Sharry Hou continued, "We have much experience in the industry, and our engineers can always make amazing designs for people to improve their working efficiency and create better visual effect."
More information about 3D PageFlip Professional can be found at:
http://www.3dpageflip.com/pageflip-3d-pro/index.html
About 3DPageFlip.com
Established in 2008, 3DPageFlip.com is a professional provider of eBook creators, which can convert all kinds of document formats (like Word, PowerPoint, Images, and so on) to ebooks. The company is famous for its low-cost and handy programs for companies, editors and publishers to produce qualified page flipping flash books.