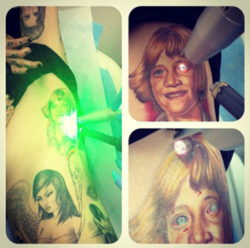 "AND SO IT BEGINS! First round of tattoo removal well underway! :) #freshstart." wrote Kat Von D.
Los Angeles, CA. (PRWEB) January 15, 2013
Kat Von D and Jesse James broke up in September 2011 and Kat Von D visited Dr TATTOFF laser tattoo removal clinic in December 2012 to start the process of removing the tattoo of ex-fiance and former reality TV star Jesse James from the left side.
Kat shared the tatoo removal news via the attached image on Twitter and Instagram. The celebrity tattoo artist wrote, "I get to start the day off with some good ol' tattoo laser removal! #ouchville #sillytattoos #creating jobs :)"
"AND SO IT BEGINS! First round of tattoo removal well underway! :) #freshstart." wrote Von D.
The tattoo artist started the process of removing the childhood portrait tattoo of her ex-fiance in December and complete removal will require between 5 and 15 treatments performed about 6 weeks apart.
Dr TATTOFF Laser Tattoo Removal clinics offer a free consultation to answer questions regarding the procedures. During the consultation the certified technician uses the Kirby-Desai tattoo removal scale to estimate how many treatments it will take to remove the unwanted ink. The estimate is backed by a Tattoo Removal Guarantee.
The cost is $49 per square inch of ink per treatment and less for larger than 5 square inches. There is a $98 minimum per laser tattoo removal procedure.
Most tattoos can be removed in 5 to 15 procedures depending on the size and color of the tattoo and each procedure can take from a few seconds to a few minutes.
Dr. TATTOFF clinics have performed more than 170,000 treatments for tattoo removal with clinics in 7 locations including Beverly Hills / Los Angeles, San Fernando, Inland Empire CA., Orange County, CA., Houston Texas, Dallas, Texas and Phoenix, Arizona. With 2 new clinics coming soon to Fort Worth, Texas and Atlanta, Georgia.