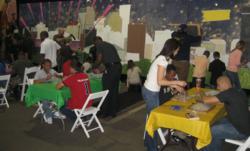 This Mardi Gras Bead recycling effort not only strengthen the community, and educates students to recycle, it also gives beads a longer life span, but most importantly this exhibit promotes Louisiana worldwide - one bead at a time.
New Orleans, Louisiana (PRWEB) January 15, 2013
German born Artist Stephan Wanger of Galeria Alegria is about to break his own record by Feb. 13, 2013, Ash Wednesday In New Orleans, LA. Last year Wanger, a New Orleans resident, completed a Guinness World Record of the largest mosaic mostly made out of recycled Mardi Gras beads. This record is about to fall this Mardi Gras season as Wanger is attempting to break his own record again, and this time the community and countless volunteers are helping. The record is benefitting the Arc of greater New Orleans and St. Michael Special School, both Mardi Gras bead recycling centers.
The new work titled, "Paragons of New Orleans" measures an incredible 42' in length and 8' in height and will contain an approximate 1.5 million beads in the mosaic. 90% of those are recycled Mardi Gras Beads. The image contains a night sky New Orleans skyline. The Superdome is all purple and magenta underneath, along with the New Orleans arena, the Crescent City Connection and Mardi Gras World. Indeed perfect diamonds to many fans in the city. Both works are part of a much larger exhibit that is called Bead Town and is currently on display at Mardi Gras World, located at 1350 Port of New Orleans Pl. until Feb. 13, 2013. Volunteers can help Mon. - Sun. 10:00am until 4:30pm at Mardi Gras World.
Bead Town is a compendium of artworks, classes, and exhibits that has grown from the collective endeavors of schools and volunteers from across Louisiana. The exhibit features over 50 huge mosaics composed about 90% of recycled Mardi Gras beads. The month-long, interactive exhibition can be hosted by any town that would like to take part. Previously Bead Town was hosted by the cities of Winnsboro and Ruston were it broke attendance records each time.
Founding artist Stephan Wanger began creating large, intricate mosaics from precisely cut and sorted Mardi Gras beads in an attempt to stem the tide of waste dumped into landfills every year following the Mardi Gras celebration. What resulted were beautiful images of Louisiana's iconic landmarks and landscapes. The pieces attracted such media attention that the idea of bringing this sustainable art form to schools and the wider community was born. This became Bead Town.
In March 2011 Stephan Wanger's artwork "The Titillations of New Orleans" was chosen as a cover of WHERE Magazine New Orleans. The Bead Town name was coined by Douglas Brantley, Editor of WHERE Magazine New Orleans.
When Wanger volunteers at schools, the classes do not only focus on teaching the art of assembling bead mosaics. A theme is selected that represents the area from which the students or community members originate. The idea is explored and images selected that embody important historical events or display landmarks that define the region. In the process, those who take part gain a greater appreciation for the history and landscape of Louisiana. And in doing so through a medium that uses recycled and sustainable materials, they learn about the impact that the wanton discarding of plastics has on the environment and what they can do to rescue their areas from destruction. Additionally, the meticulous process of creating the mosaic itself creates a sense of teamwork and collective identity. So far over 3,000 children have worked on the artworks displayed in Bead Town.
Bead Town travels from city to city with many works that resulted from school projects. Whenever a city hosts Bead Town, the works are displayed in their local businesses and historical sites and classes are offered to their schools and community members. The tremendous scale of the project and the media attention attracted results in increased tourism to the cities that have and currently are participating. These cities draw larger streams of revenue and national and international attention is increasingly given to the problem of pollution in this region of the country due to Mardi Gras beads.
Participating schools receive profits made from sales of reproduction material based on their works, which can be used for further projects or whatever needs they might have.
Bead Town is currently touring Louisiana and will continue its efforts to draw attention to the region with a possible tour of Europe in 2013. The exhibits within Bead Town are as follows:
Taste of Louisiana
12 pieces 4'H x 4'W created in 2011 by the students of Rudolph Matas Elementary School of Metairie, LA, featuring culinary highlights from Louisiana
Louisiana: Pick Your Passion
12 pieces 4'H x 6'W created in 2012 by the students of Andrew Wilson Charter School of New Orleans, LA featuring iconic locations in Louisiana (seven completed)
A Million Greetings From New Orleans
20 pieces created 2007 – 2012 by Bead Town founder Stephan Wanger of Galeria Alegria, including the Guinness World Record for the largest mosaic made out of Mardi Gras Beads called "Sanctuary of Alegria" a 8'H x 30'W mural featuring the skyline of New Orleans
Reflections from Louisiana
12 pieces 4'H x 8'W to be created in the Fall of 2012 – by the SCI-Academy of New Orleans East featuring "Concerns that Matter" (one completed)
Louisiana Book Gardens
6 pieces, Little Free Libraries to be created in the Fall of 2012 – by the Audubon Charter School featuring large birdhouse-shaped libraries that will invite people to "Take a Book. Return a Book" and develop a culture of learning in their communities (two completed)
Bead Town: Winnsboro, LA
3 pieces 4'H x 8'W "Our Region"
Created by: Franklin Community Christian School, Crowville School, Ft. Necessity, Franklin Parish H. S. (one completed)
From Delhi, LA
2 pieces 4'H x 8'W "Our Region" Created by the Delhi Charter School
"Paragons of New Orleans" is sponsored by Mardi Gras World, Caserta Architects, Metrowide Apartments, Pokorn Construction & North Production.