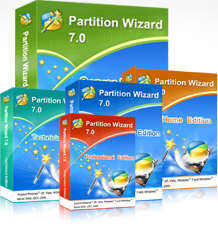 MiniTool Partition Wizard v7.7 released.
Vancouver, BC (PRWEB) January 14, 2013
MiniTool Solution Ltd. released PC and Server partition manager software MiniTool Partition Wizard 7.7. New version includes:
-Support Unified Extensible Firmware Interface
Convert dynamic disk to basic disk bug fix
Key features of Minitoo Partition Wizard v7.7:
Fully support UEFI boot.
Extend partition with one step.
Split one partition into two safely.
Fully Support 4096-byte-sector-based hard drive.
Align all partitions or align a specified partition to optimize hard drive performance.
Support Simple, Spanned, Striped, Mirrored and RAID-5 volume.
Move/Resize dynamic disk volume without data loss.
Create, delete and format dynamic volume.
Change cluster size for dynamic disk volume without data loss.
Wipe dynamic volume for data security reason.
Check and repair file system error for dynamic volume.
Support removable disk. For example: memory card, memory stick and flash drive.
As partition magic alternative software, MiniTool Partition Wizard has different license targeting different users and operating systems:
Partition Wizard Free Home Edition: Free for regular home users.
Partition Wizard Professional Edition: Added merge partition, support dynamic disk
Partition Wizard Server Edition: Support Windows Server 2003, 2008, 2008R2, 2012 and SBS
Partition Wizard Enterprise Edition: Commercial enterprise solution.
Partition Wizard Technician Edition: Designed for IT consulting firms and individuals.
About MiniTool Solution Ltd.:
MiniTool Solution Ltd. is a software company dedicated to data recovery software and disk management software development. Today, MiniTool continues to lead the industry in innovation with its award-winning Partition Wizard application and Power Data Recovery application. For more information about MiniTool and Partition Wizard 7.6, please visit http://www.partitionwizard.com.
# # #