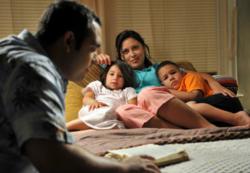 Honor Starts At Home
Nashville, TN (PRWEB) January 17, 2013
Faith based movies and inspirational movies (films) are becoming more and more popular as the economy declines. People simply need an outlet to "feel good". When Magazine has been providing a beacon of light online since 1999, with clean, family friendly entertainment via its online magazine. Recently, this ezine conducted a poll on the website and asked its visitors which Sherwood Pictures movie (film) inspired the most.
Here are the results:
Flywheel 6%
Facing The Giants 21%
Fireproof 15%
Courageous 54%
none of the above / other 3%
So, Courageous The Movie comes out on top. Here is a little news. The first interview on When Magazine Radio (#WhenMagRadio on Twitter) in January 2010, was with the co producer of Facing The Giants and Fireproof, David Nixon, also Director for Letters to God about a cancer stricken child that leaves a deep impact on the world around him, including an alcoholic mailman. Letters to God is based on a true story about the son of Patrick Doughtie.
Further on into the When Magazine Radio (#WhenMagRadio) concession, Ben Davies who played rookie cop, David Thompson on Courageous The Movie was exclusively interviewed. This led to an interview with the founder of Miley Cyrus at a young age, Owner of Advantage Models & Talent, Nise Davies.
So, without a doubt, this Clean, Family Friendly Online Magazine, WHEN MAGAZINE, has some celebrity contacts and is making a difference in the media and entertainment sectors. They'd like to reach out to teens with their special teen section, as well as Christians with their special christian section and so much more …
When Magazine cordially invites you to their Facebook page where they will posting inspirational posts throughout everyday to keep you going in world filled with so much garbage and trash.
Sub the RSS feed at:
http://feeds.feedburner.com/WhenMagazine
And there is an option to make a donation to this volunteer magazine at the top of the homepage. Readers led by God to invest their hard earned money into an outlet for positive change will find When Magazine a relief.
"In this world you will have trouble, but take heart for I have overcome the world." - Jesus (John 16:33)
***
ABOUT COURAGEOUS THE MOVIE
Four men, one calling: To serve and protect. As law enforcement officers, Adam Mitchell, Nathan Hayes, David Thomson, and Shane Fuller are confident and focused. Yet at the end of the day, they face a challenge that none of them are truly prepared to tackle: fatherhood.
While they consistently give their best on the job, good enough seems to be all they can muster as dads. But they're quickly discovering that their standard is missing the mark.
When tragedy hits home, these men are left wrestling with their hopes, their fears, their faith, and their fathering. Can a newfound urgency help these dads draw closer to God ... and to their children?
Filled with action-packed police drama, COURAGEOUS is the fourth film from Sherwood Pictures, the moviemaking ministry of Sherwood Baptist Church in Albany, Georgia. Viewers will once again find themselves laughing, crying, and cheering as they are challenged and inspired by everyday heroes who long to be the kinds of dads that make a lifelong impact on their children.
Protecting the streets is second nature to these men. Raising their children in a God-honoring way? That's courageous.
ABOUT WHEN MAGAZINE
Clean, Family Friendly Online Magazine centered around entertainment with celebrity contacts. God driven with inspirational articles geared toward making a difference in the media and entertainment industries since 1999.
*Currently seeking writers, editors, admin asst, and web publishers (all on an intern / volunteer basis) … seeking investment and donations!