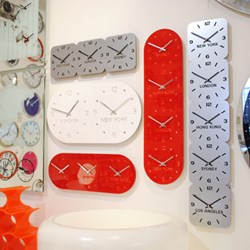 Each clock is made on demand, allowing for the personalisation of each item.
(PRWEB) January 14, 2013
A whole new range of modern time zone clocks has now been produced by the home accessories retailer Contemporary Heaven. Manufactured in Hertfordshire in the UK, these time zone clocks are exclusive to Contemporary Heaven and can be purchased on their website or in their Hertfordshire Showroom.
For offices or homes, the Roco Verre Silver Acylic Time Zone Clock range comes in a variety of forms and can be customised with desired time zones. The designs available range from a multiple dial strip style clock to more integrated square clocks. Each version bears similar characteristics in that they all feature a metallic silver acrylic dial which has been laser cut with precision to allow a glossy black acrylic backing to show through, representing the digits. All of the clocks have black hands for better visibility and German high torque movements.
Multiple dials arranged in a strip can be anything from two dials to five dials in size and can be arranged horizontally or vertically to suit available wall space or personal taste. The dual dial and triple dial versions can also come in two sizes in either orientation.
Individual time zone clocks in two sizes are also a part of the range to create a larger wall display than the multiple strips. Each individual clock has one dial and one time zone, so multiple clocks would need to be purchased (one for each time zone required).
A more integrated clock is available for a completely different look. This retro styled silver acrylic time zone clock features a main dial for the current location and integrates two smaller dials into the main one. These two smaller dials have the city or country names underneath for simple clarity.
Professional in appearance and in nature, the range has been designed and manufactured with businesses in mind and prices vary depending on the clock, which is good for different budgets. Each clock is made on demand, allowing for the personalisation of each item.
About the Company
Contemporary Heaven is a Hertfordshire based retailer and manufacturer with online outlets in the UK, Holland, France, Germany, Poland and the US. They are a subsidiary of Roco Verre LTD which has been in existence for more than 15 years, supplying a range of home accessories to retailers, businesses and individuals. Their range of home accessories includes modern clocks, custom time zone clocks, personalised school clocks, coasters and placemats, unusual wall mirrors, storage solutions, contemporary lighting, bathroom accessories, barware and much more.
For more information, visit http://www.contemporaryheaven.co.uk
Contact Details:
Roco Verre Ltd
Contemporary Heaven Division
68 Wilbury Way
Hitchin
Herts
Ph.: 44 (0)1462 451199