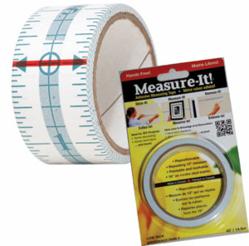 The ideal project layout tape that allows you to work faster and more accurately in all your Do-It-Yourself projects.
Toronto, Ontario, Canada (PRWEB) January 17, 2013
"We are really excited to be a part of the True Value family," explained Rob Botten, President of Bronto Marketing Group who have the exclusive marketing rights to Measure-It! "Because True Value is such a major player in hardware retailing in the U.S., Measure-It! will soon be accessible to their significant customer base who can buy it and discover for themselves just how many uses it has. Measure-It! is an ideal product for DIY'ers who like to do their own home renovations and home decorating projects. We know it will be a great fit with True Value's line up of products." True Value is one of the world's largest retailer-owned hardware cooperative with about 4,500 independent retailers.
Bronto Marketing Group of Sharon, Ontario met with the True Value Product Merchant at the company's Open Buying Day who liked it immediately. "We're always on the lookout for new and unique items for our dealers and customers", he said. Measure-It! will be a new exhibitor at the True Value Spring and Rental Market. Feb 23-25 in Atlanta.
Applied to the wall, floor or almost any other surface, Measure-It! acts like a third hand for DIY'ers when tackling their home renovation and home decorating projects by leaving their hands free to mark, drill, cut, hang etc. It allows them to complete the project quickly and accurately and can be removed without leaving a mark.
Measure-It! tape is very simple to use and can be helpful for many jobs including:

Hanging blinds or pictures
Painting
Room Layout
Drilling/cutting
Fabric measurement
Arts and crafts
Measure-It! can be used for almost any job where measurement is required. With no liner to remove, the tape peels off the roll like a normal household tape and can be put directly on almost any surface. The tape is low tack, which allows it to be repositioned several times if necessary. Measure-It! can be marked with a pen, pencil or marker, torn off where needed, and the product is recyclable. Measure-It!'s simplicity appeals strongly to women who like to tackle DIY decorating projects.
For Measure-It! Canadian sales inquiries, contact John Burke at Dynamic Paint Products Inc: 905 812-9319 x325. Bronto Marketing Group Inc. (BMG) has exclusive marketing rights for Measure-It! worldwide. BMG strives to introduce high quality consumer products to new markets. Contact BMG at 1 855 349-8273 or visit http://www.measureittape.com/