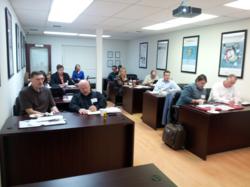 Treating Sleep Apnea Patients in my practice has brought a new energy to me and my entire team.
Ft. Lauderdale, FL (PRWEB) January 14, 2013
Dentists across the country are participating in dental continuing education courses, which teach dental professionals how to screen and treat snoring and sleep apnea, through Oral Appliance Therapy (OAT). With such a high demand for quality sleep courses, Sleep Group Solutions has added five leading dental sleep medicine professionals to their speaker line-up, to teach 70 plus CE seminars in 2013.
According to the National Sleep Foundation, more than 90 million Americans snore. Snoring along with high blood pressure, hypertension, irritability, headaches and daytime fatigue, are signs you may have sleep apnea. Dentists are quickly becoming the first line of defense in treating these patients who snore or have sleep apnea. "Treating Sleep Apnea Patients in my practice has brought a new energy to me and my entire team. We love the way we are helping improve and prolong patients lives." shares Dr. Vesna Sutter, a new SGS Instructor from Illinois. "I am extremely excited to share my knowledge with other dentist as an SGS instructor so they too, can experience this energy."
Dr. Damian Blum, Dr. Jeff Horowitz and Dr. Jerome Gildner are also among the latest Dental Sleep Medicine dentists to join the SGS family as instructors. In addition, North Carolina dentist, and SGS Instructor, Dr. George Jones says, "I'm proud to join SGS as a speaker and help in their mission to spread awareness of OSA, and the treatments available. Their training and equipment are a vital part of my repertoire in the diagnosis and treatment of this deadly disease." Dental seminar attendees will have more than 70 SGS courses to choose from, with over 10 different instructors in 2013.
2013 SGS Speakers Line-Up includes:
Dr. Daniel Tache
Dr. Dawne Slabach
Dr. Marty Lipsey
Dr. Barry Freydberg
Dr. Michael Hnat
Dr. Damian Blum
Dr. Jeff Horowitz
Dr. Jerome Gildner
Dr. Vesna Sutter
Dr. George Jones
To learn more about dental sleep medicine, and to register for a course with an SGS Instructor, please log on to sleepgs.com for more info.
About Sleep Group Solution 
Sleep Group Solutions is an airway diagnostic technology company serving the needs of physicians and dentists interested in screening, diagnosing and treating sleep apnea and other upper airway disorders. Sleep Group Solutions offers the latest screening and diagnostic equipment solutions for patients with allergy, sinus congestion, rhinitis, deviated septum, nasal polyps, snoring and sleep apnea. SGS offers the most comprehensive dental sleep medicine CE seminars in the industry focused on teaching dentists the protocols needed to make the treatment of snoring and sleep apnea part of their practice. Sleep Group Solutions offers sleep study interpretation, oral appliances (Norad Boil & Bite, Respire), online dental directory 1800SleepLab.com and online marketing for CPAP Intolerant patients (1800Sleeptest).  SGS is the manufacturer of the Eccovision Systems Rhinometer and Pharyngometer, and offers Home Sleep Testing devices from Watermark Medical.