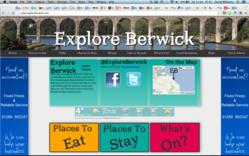 First4Websites is passionate about promoting tourism in the Berwick area as well as encouraging local people to stay local
Berwick, Berwick upon Tweed, Northumberland (PRWEB UK) 13 January 2013
First4Websites have launched an exciting local website. ExploreBerwick.com focusing solely on the town of Berwick-upon-Tweed.
The website includes dedicated pages on: Places to Eat, Places to Stay, What's on, Local Businesses, Out & About and much much more. It's purpose is to act as a single reference source for locals and tourists, where they can access information about events, latest news, activities, special offers and find out what the most northern town in Northumberland has to offer.
The site is interactive and is kept as up to date as possible so that people in Berwick upon Tweed can have one place for information they can access on a daily basis.
Recently featured in the local press, http://www.exploreberwick.com will tell you everything that is needed about what's happening locally. The site is accessible on the web, Facebook and Twitter. Encouraging statistics show that the average user is spending over 5 minutes per visit which shows that the site is user friendly and full of great information that is relevant to the local community.
For more information or to request the promotion of a new local event, please send an email to info@explorebewick.com or First4websites.
Phase 2 is to follow with more exciting developments – watch this space….
First4Websites is a Northumberland based website design and online marketing company with over 8 years of experience in developing content rich websites for local businesses.