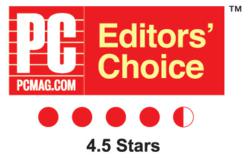 It's a must-have for any IT administrator concerned about what is happening on the wireless network.
SAN FRANCISCO (PRWEB) January 14, 2013
OpenDNS, the world's leading provider of cloud-delivered Internet security solutions, today announced that Umbrella, a new line of security services that extend malware protection and Web filtering to nomadic workers who roam off the network, has been honored with PC Magazine's Editors' Choice award. The review focuses on Umbrella Mobility, which secures roaming Mac and PC laptops and iOS devices against malware, phishing, botnets, inappropriate content and eavesdropping over unsecured Wi-Fi.
PC Magazine analysts put products through rigorous tests and evaluations before they are considered for Editors' Choice awards. Umbrella received the PC Magazine Editors' Choice Award for its innovative ability to protect users who roam off the secure network and onto unsecured Wi-Fi environments. PC Magazine Network Analyst Fahmida Y. Rashid said, "The service is tremendously straightforward to administer, and nearly transparent for users, making it a must-have for any IT administrator concerned about what is happening on the wireless network."
Securing nomadic workers – those employees who choose their own devices, roam off the secure corporate network and use unsecured Wi-Fi, and access corporate data over cloud-based apps – has become increasingly challenging and complex as the threat landscape expands. Before the release of Umbrella, security companies had struggled to deliver a solution that was lightweight, easy to manage and still powerful. Umbrella has empowered IT administrators to regain visibility into user behavior and control over the security practices of their networks and users.
PC Magazine's thorough evaluation of Umbrella determined that, "Umbrella is a security service that protects all devices within the organization, regardless of whether the employee is connected to the work wireless network or working remotely from a coffee shop," Rashid said. "Location doesn't matter; once the administrator defines and applies a security policy on the device, that device is protected as long as it is connected to the Internet."
"We built Umbrella because we know that it is no longer enough to simply secure devices when they're connected to the corporate network," said David Ulevitch, founder and CEO of OpenDNS. "PC Magazine's recognition of Umbrella as an Editors' Choice Award winner for security cements the importance of securing devices no matter where, how or when they connect to the Internet. We're honored to receive this award."
Umbrella's cloud-delivered solutions are trusted today by thousands of SMBs, large enterprises, K-12 schools, colleges and universities, and city and county governments. Umbrella offers four security solutions packages to protect core, distributed and Wi-Fi networks and roaming and mobile users: Umbrella Enterprise, Umbrella Insights, Umbrella Mobility and Umbrella Everywhere.
Read the complete PC Magazine 4.5 star review: http://www.pcmag.com/article2/0,2817,2412733,00.asp
Visit our website to learn more about how Umbrella can protect organizations of all sizes from malware, botnets, phishing and inappropriate content and get information on products and packages. Umbrella Enterprise and Umbrella Mobility can also be purchased directly through the Umbrella online store.
About OpenDNS
OpenDNS is the world's leading provider of Internet security and DNS services, enabling the world to connect to the Internet with confidence on any device, anywhere, anytime. OpenDNS provides millions of businesses, schools and households with a safer, faster and more intelligent Internet experience by protecting them from malicious Web threats and providing them control over how users navigate the Internet, while dramatically increasing the network's overall performance and reliability. The company's Umbrella cloud security service protects enterprise users from malware, botnets and phishing regardless of location or device. At the heart of all OpenDNS services is the OpenDNS Global Network, the world's largest Internet-wide security network, securing 50 million active users daily through 12 data centers worldwide. For more information, please visit: http://www.opendns.com.